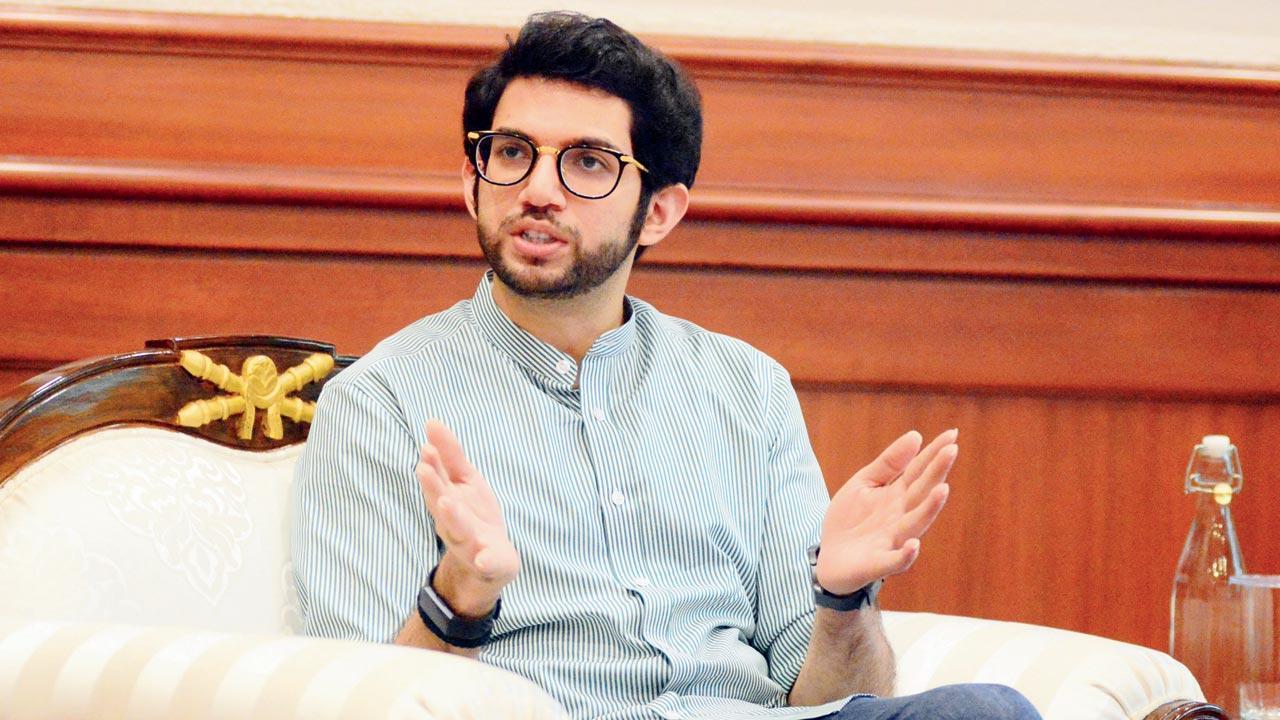 The Eknath Shinde quake seems to have set off tremors in the Yuva Sena as well. It is learnt that many Yuva Sena members are upset with the interference of Varun Sardesai (Rashmi Thackeray's nephew) and few core committee members in day-to-day and party affairs.
Sources within the Yuva Sena said, "The party has already suffered a huge loss due to the interference of Yuva Sena leaders including Sardesai, Amol Kirtikar, Rahul Kanal and Suraj Chavan. Due to them, there was growing anger among the other party members, as not only they were trying to influence important decisions, but treating Yuva Sena as their private company."
Also read: Development works should not be hampered by political crisis: Uddhav Thackeray
Varun Sardesai is one of the core committee members who is being blamed for influencing Aaditya Thackeray. File pic/Pradeep Dhivar
Following the Shinde rebellion which has shaken the Shiv Sena, some party insiders and Yuva Sena office bearers are of opinion that it's time for the youth wing's chief Aaditya Thackeray to interact one-on-one with its core committee to prevent such a rebellion in it.
"The Yuva Sena is an important force of the Shiv Sena because many youths believe in the leadership of Aaditya Thackeray, as they have a lot of expectations from him. But in order to keep the body intact, Aaditya should talk to the important Yuva Sena members just as before. Sardesai came into the picture. After Sardesai arrived, only the elite Shiv Sena or Yuva Sena members have had access to Aaditya, but the common Shiv Sainik or Yuva Sena member who has given blood and sweat to the organisation is being ignored which is a serious issue," said another Yuva Sena member.
In the year 2011-2012 the Yuva Sena was formed with Aaditya as its president. The main intention to form it after dissolving the Bharatiya Vidyarthi Sena – the then students wing of Shiv Sena – was to garner the support of youth and project Aaditya as a youth political leader.
There are a total of 18 core committee members in the Yuva Sena, who take important decisions. The core committee team also includes MLA Yogesh Kadam – son of senior Sena eader and former leader of the opposition Ramdas Kadam. Yogesh, who was said to be close to Aaditya, has also gone to Guwahati with the Eknath Shinde camp. Another Yuva Sena Core committee member, Purvesh Sarnaik, might also shift sides as his father, MLA Pratap Sarnaik is also with the Eknath Shinde camp. Sources within Yuva Sena also alleged that the coterie of some core members including Sardesai, Suraj Chavan, Kanal, Kirtikar even after such political turmoil are still misleading Aaditya.
'Aaditya being misled'
"Aaditya is one of the most humble leaders who used to listen to our suggestions, but some Yuva Sena core committee members have been misleading him for the past two to three years. Some members have started thinking that they own the Yuva Sena and are more important than Aaditya or even Uddhav ji. It's high time now that the party leadership takes note of all this or else the coming times are going to be extremely difficult," added a member of Shiv Sena.
Asked about the allegations, Rahul Kanal said, "It is really shocking to see that some people are alleging that Varun ji, myself, Suraj ji and Amol ji are interfering in the work of Yuva Sena and Shiv Sena. We only meet Aaditya ji for social work and the programmes that Yuva Sena takes. We are more into cultural and social activities and don't have any say in the electoral process as we are very junior. I think some people are deliberately trying to malign our and the party's image taking the benefit of the current situation. Our leader Aaditya ji is very much approachable to any Yuva Sena leader or any Shiv Sena party workers because he loves to have a dialogue."
Members of Yuva Sena Core Committee
. Varun Sardesai
. Amol Kirtikar
. Pravin Patkar
. Rahul Kanal
. Suprada Phatarpekar
. Sheetal Devrukhkar
. Ankit Prabhu
. Suraj Chavan
. Purvesh Sarnaik
. Amay Ghole
. Siddhesh Kadam
. Rupesh Kadam
. Durga Bhosle
. Suhasini Mutthu
. Pawan Jadhav
. Priyanka Chaturvedi
. Sainath Durge