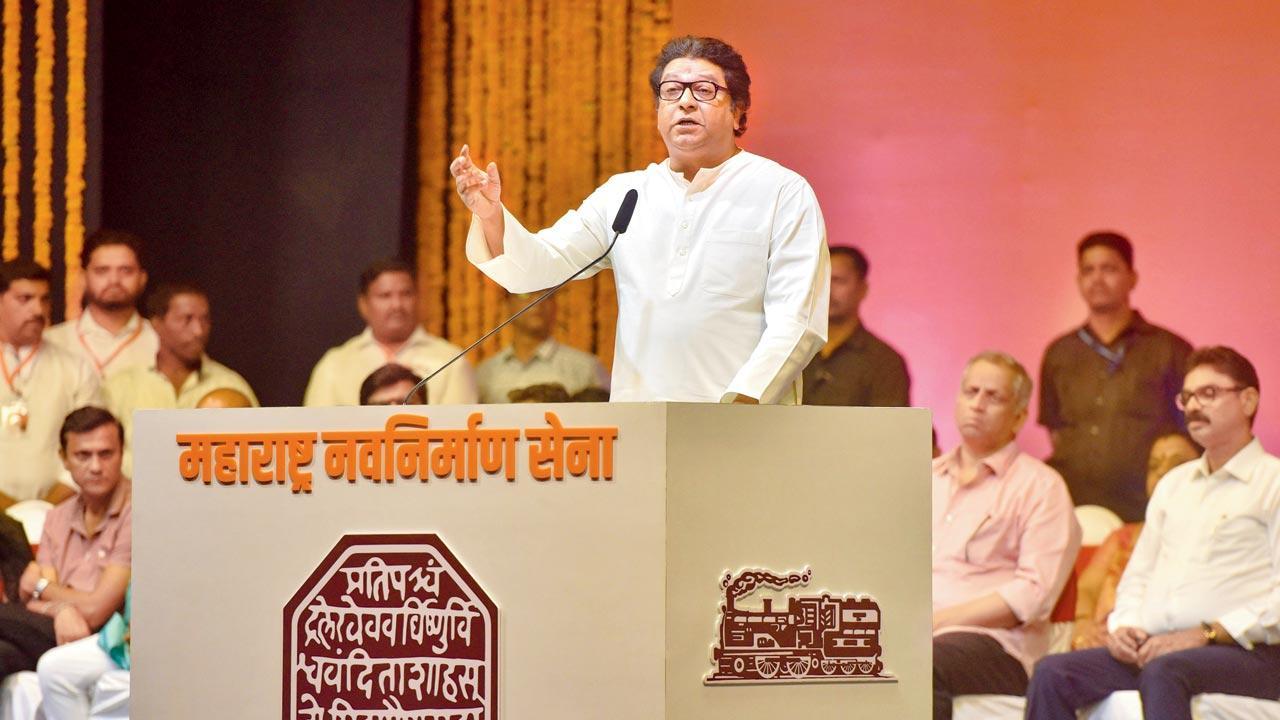 Apart from his scheduled hip surgery which has put off his June 5 Ayodhya tour, MNS president Raj Thackeray said he has realised that the opposition from a sole BJP MP, who also dared the UP CM, was a trap laid for him and his workers, who, if engaged with the MP's supporters in the temple town during his trip, could have been jailed ahead of the local body polls. He said he wanted to protect his 'boys" and vowed to continue the agitation against loudspeakers on mosques saying it yielded results across India.
At an indoor rally in Pune on Sunday, Raj said his leg was in severe pain. He will be undergoing hip surgery on June 1 and need two-three weeks to recover. "Some people felt bad and some felt happy because I put off the tour. Some poked at me, but I gave them a buffer of a few days to speak more against me. And here I'm today to respond."
'It was a trap'
Raj said he had been getting information from Mumbai, Delhi and UP when someone threatened that he would not be allowed to enter Ayodhya if he didn`t apologise (for his hate speeches against north Indian migrants). "I realised that it was a trap. All required provisions were sent from Maharashtra, with a suggestion that the old issues be dug out. The strategy was planned together by those who are affected by our Hindutva. There are many layers to it and I can't talk about all of them now," he said. Raj said he wanted to pray not only at Ram Janmabhoomi but also at the spot where kar sevaks had fallen to the bullets fired by the then Mulayam Singh government. "But people in politics don't understand such emotions."
"Had I persisted to visit, many of my boys would have accompanied me and taken on the opponents. The plan was to arrest these boys and rot them in jails so that they are not available for party work during the polls. I told my party colleagues that I would not sacrifice my boys. I would rather prefer to get abused and criticised," he said.
Raj did not name the strategists, but called it a joint effort of parties which were enraged because of his fight for Hindutva. "Why dig out the past. They have awakened now and are demanding my apology. I tell you that they have set a bad precedent."
The MNS president said north Indian migrants were beaten up in the wake of a minor girl's rape in Gujarat. Some 20,000 migrants left the state, came to Mumbai and returned home. "Who will apologise for this? Understand the politics behind it. All those who are enraged by our Hindutva have come together."
Raj said he had asked for reciting the Hanuman Chalisa in front of 'erring' mosques, but the Rana couple chose to do it in front of Matoshree (CM Uddhav Thackeray's residence). "Is Matoshree a masjid? The couple was jailed. The Sena and the Ranas spoke many things against each other. We have seen the rada. And later, [Sena MP] Sanjay Raut was seen breaking bread with the Ranas in Ladakh. How can the Sena office-bearers bear this? Their Hindutva is nothing but blabbering…"
Successful agitations
On allegations that he gave up agitations midway, Raj said all his agitations were successful. "Across India, the morning azan has been stopped for the first time. Tolls are either stopped or have reduced their rates. We drove away Pakistani artists from India. We took out a morcha against Raza Academy's atrocities against the women police. The agitation for securing railway jobs for Marathi people was also successful."

He recalled how MNS took on north Indians when one of its workers was abused by a person who had come for a railway exam in Mumbai. "MNS workers had gone to meet the thousands of north Indian people who arrived in Mumbai. Instead of speaking nicely, our worker was abused. The recruitment drive for jobs in Maharashtra was published in north India not here, denying our boys placement opportunity."
He said that following the agitation the then railway minister Mamata Banerjee decided that the railways recruitment exams would be written in regional languages as well. "Increasing number of Marathi people are getting railway jobs since then."
Raj poked at his estranged cousin and CM Uddhav for drawing parallels between Shiv Sena's Hindutva and others' Hindutva. "Are you selling washing powder? We have given results with our Hindutva and people know it."
He asked whether the CM was ever booked for public protest or political agitation. "What kind of childish speech it was," he said in reference to the CM's rally on May 17. "He [the CM] remembers only 1992-93. He says there is no need of renaming Aurangabad as Sambhajinagar. Who are you, Patel or Gandhi? Actually, they have been in power but didn't rename the city because they want the issue burning for vote politics.
He accused the Sena of helping AIMIM grow in Aurangabad. "They didn't realise they had helped a demon grow. The demon won an MP's poll beating Sena. And when the leaders of such a party pray at the grave of Aurangzeb, they remain silent," he said, demanding from the Modi government the renaming of Aurangabad. He again demanded a uniform civil code and a population control act.
Raj accused NPC boss Sharad Pawar of glorifying Afzal Khan as a Sufi saint. "Why do you alter history for your own gains?," he asked, questioning the expansion of Khan's grave into a masjid. He said Pawar was harming Sena founder the late Balasaheb Thackeray's credibility by giving the impression that political rivalry between the two was fake.
He said it was the public silence that kept India off independence for 900 years. "You remain unconscious of what is happening around you. These people watch you closely [for opposition to loudspeakers]. They will up their ante once you give up on agitation," he said.
Raj also asked his party workers to deliver a letter from him to every Hindu household in the days to come.