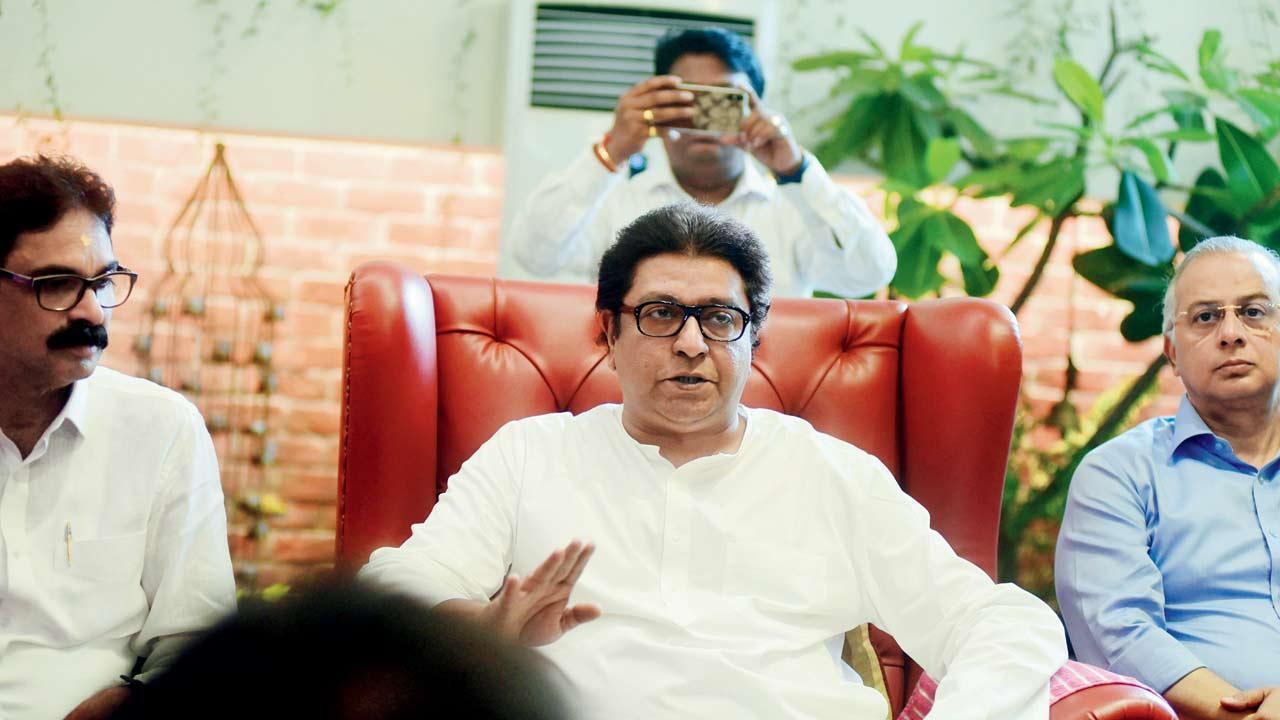 MNS president Raj Thackeray has put off his June 5 visit to Ayodhya. The proposed tour courted controversy over BJP Member of Parliament from Uttar Pradesh Brij Bhushan Sharan Singh's threat that Raj would be allowed in the holy town only after he apologises to the hosting state for his hate speeches and his party's violence against migrants from north India.
Putting off the visit on Friday through a social media post, Raj didn't explain much but promised to clear the air in his address to the party workers on Sunday, May 22, in Pune. As speculations were rife over political reasons and Singh's threat, people close to Raj said his leg needed treatment, most possibly a surgery later this month, after which he would need recovery time.
MP to keep protesting
Raj's announcement did not deter Brij Bhushan from intensifying his aggressive stand. He said agitation against the MNS president will continue and lakhs of people will congregate in Ayodhya to protest on June 5. On the occasion, the MP and his supporters and Ayodhya seers will also celebrate the birthday of UP chief minister Yogi Aadityanath.
Sena takes potshots
Meanwhile, Shiv Sena leader Aaditya Thackeray will travel to Ayodhya on June 15 along with hundreds of leaders and party workers. Party's chief spokesperson and MP, Sanjay Raut, said the Sena was always welcome in UP. "Some parties have cancelled their trips. They can seek our help because we have a strong following in Ayodhya…"
Sanjay Raut, Sena chief spokesperson and RS member
Raut said the people have been raising questions about whether the tour was off because neither the Hanuman Chalisa nor loudspeaker worked for creating trouble in the state. "People are also saying that the political pressure stalled the visit. Health issues could also be a reason. Whatever it is, the answer should come from them…"
He said it was time for the parties to understand how the BJP uses them for agenda like Hanuman Chalisa and loudspeakers (on mosques) and throws them once used. "Such leaders should understand it quickly," Raut said.
MNS hits back
MNS leader Kirtikumar Shinde questioned why Sena president Uddhav Thackeray's Ayodhya visit was cancelled over security reasons. "Where were the Sena's followers when the visit was scrapped? You want to take care of our party boss even after you cannot secure your own party chief?" asked Shinde.
NCP using Raut: BJP
Opposition leader in the upper house, Praveen Darekar said the state knows who Raut works for. "Raut is used by Sharad Pawar and his party as their spokesperson whereas the Shiv Sena is deteriorating and faces existential issues. Raut needs to introspect instead of commenting on other parties."
Darekar said there is no reason to believe that Brij Bhushan obstructed Raj. "It was an individual protest. The BJP has not supported Brij Bhushan in any way. Raj will go to Ayodhya in the coming days."
Ex-CM Devendra Fadnavis said he would rather ignore Raut's comment, but added that no one should be stopped from going to Ayodhya. "Raj Thackeray has postponed his tour, He will go there in the future."