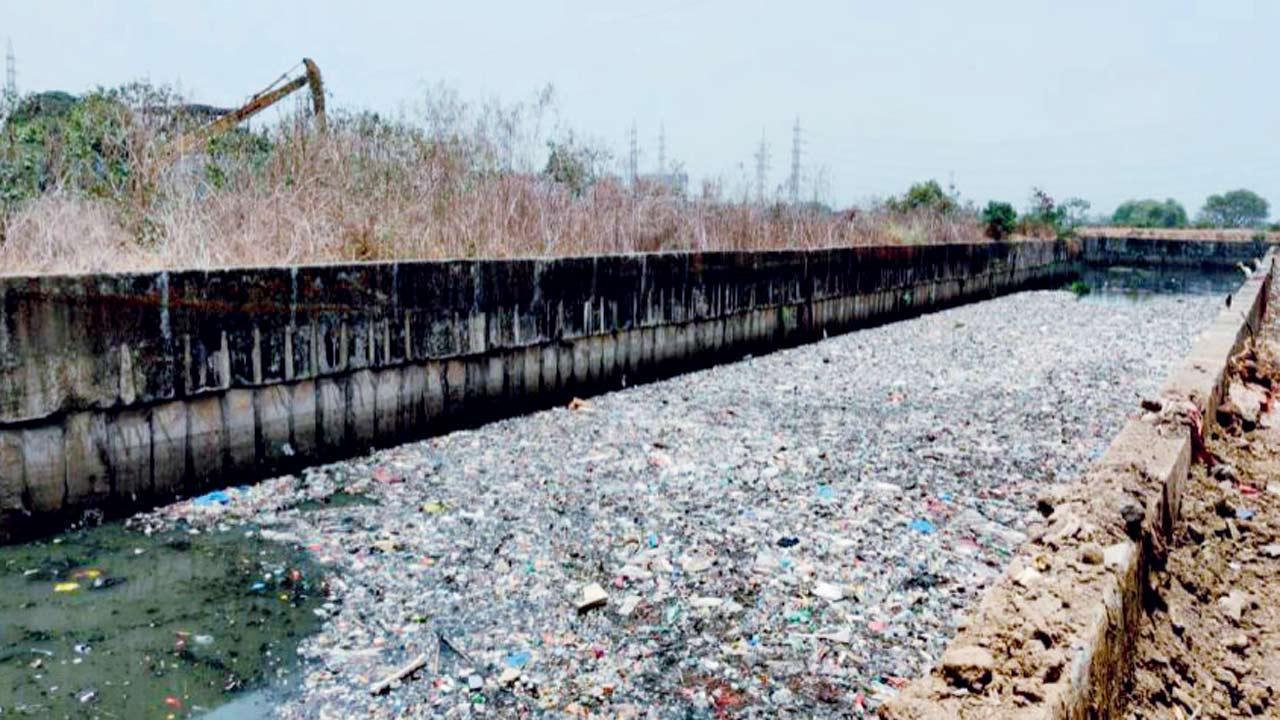 With monsoon just around the corner in an election year, the blame game has begun over the desilting of nullahs. While Suburban Guardian Minister Aaditya Thackeray said 78 per cent of the desilting work across the city and suburbs is complete, BJP claimed only 35 per cent of the drains are clean. A delegation of the BJP met the civic chief on Thursday and presented photos of nullahs that are still clogged.
Thackeray held a review meeting of the BMC`s pre-monsoon work at the head office on Thursday, where civic chief Iqbal Singh Chahal was present. Interacting with media persons after the meeting, he said, "Desilting work in residential areas cannot be done at nights, as it may cause a nuisance to the locals. But the BMC is working on desilting the nullahs."
Usha Nagar nullah, Bhandup East
"We are keeping a track to ensure the road and desilting works are done on time. For landslide-prone areas, construction of retaining walls has started. We are also thinking about the resettlement of families who are living in landslide-prone areas," he added. The guardian minister said, "It is important to keep in touch with the citizens for pre-monsoon work to know their problems. Therefore, I have instructed the officers to visit the places where the actual work is going on."
A BJP delegation also met Chahal, and MLA Ashish Shelar said, "Our former corporator is continuously monitoring the desilting work. We have a photograph where desilting has not been done and we gifted it to the commissioner."
Model Town nullah, Seven Bungalows
Congress also slams BMC
The Congress party, which is an ally in the MVA government in the state, also slammed the BMC on the issue. Former Opposition leader of the BMC Ravi Raja said, "We will take a review of the desilting work on June 2. But we are getting complaints from our karyakartas. No one is happy with the work, and this year, too, Mumbai will be flooded in the first rain only."
Thackeray said that there will be waterlogging in the city if it rains heavily. "But we are working towards measures so that rainwater can be drained out rapidly. We are taking precautionary measures at the flooding spots. Preventive measures have been completed in 90 per cent of the 356 flood-prone areas," he said.
Kamala Nehru nullah, Kandivli West
"After 25 years in the BMC, they are saying that Mumbai will be flooded. Aaditya Thackeray should apologise to the citizens of Mumbai. Looking at the work done so far, the citizens of Mumbai are going to suffer this year, too. Thackeray and the BMC are responsible for this," said Shelar.