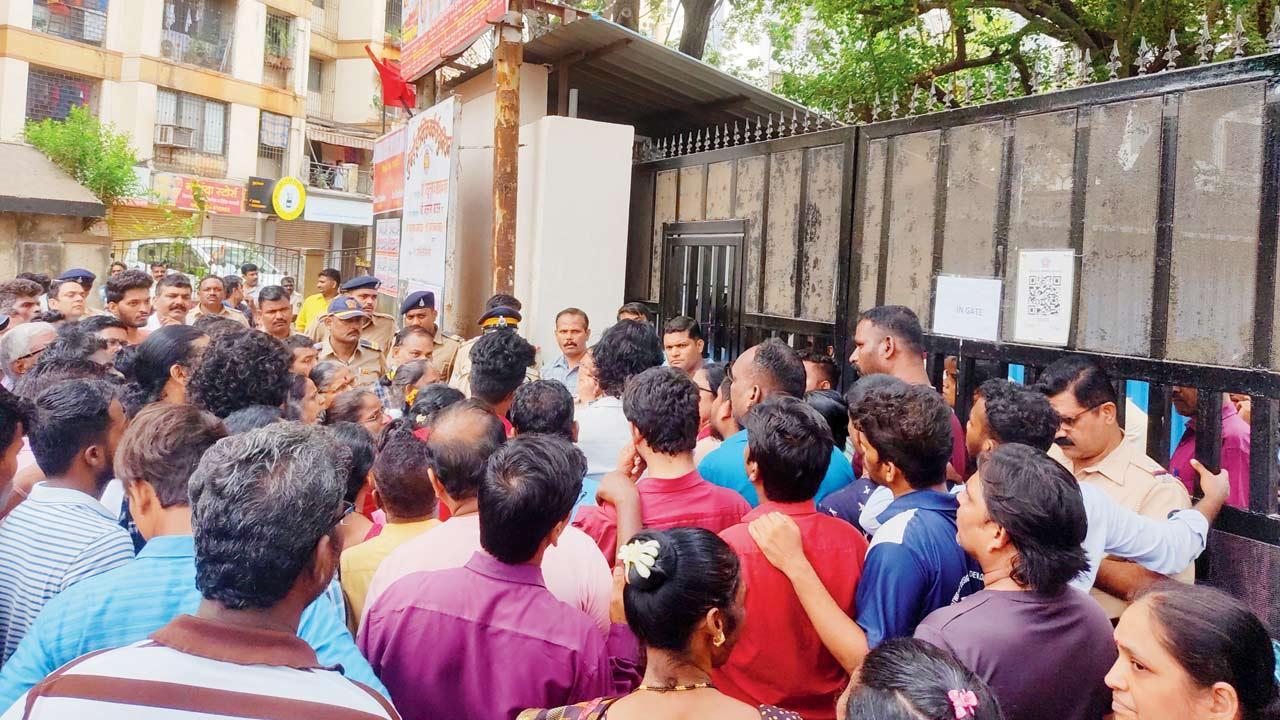 With the end of the two days' time given to pay due bills, Siddharth Colony in Chembur went dark from 7 am on Tuesday morning as Adani Electricity Mumbai Limited disconnected power supply to the area. However, power supply was restored at 6 pm amid meetings between protesters and police.
A delegation of residents met DCP (Zone VI) Krishnakant Upadhyay on Tuesday evening. "We demanded that Adani Electricity officials be booked under Prevention of Atrocities Act for consistently harassing residents despite paying outstanding amounts as per their financial condition," said Lahu Kamble, member of Siddharth Colony Ghar Hakka Sangharsh Samiti. The DCP has reportedly asked them to register a complaint with Chembur police.
"This incident is not related to the police, but we are still trying to find an amicable solution. We are consistently asking citizens to pay the outstanding bills, and at the same time, asking Adani Electricity to continue the supply as residents come forward to pay the bills. A delegation met me on Tuesday, but I have told them to approach the local police station," said DCP Upadhyay.
Last week, hundreds of residents, fed up with the daily disconnection of power supply, had gheraoed the Adani Electricity office at Tilak Nagar for over 13 hours on May 12. In a meeting between the residents, Adani Electricity and cops, it was decided that the residents would be given two days to pay the running bills. However, as the deadline passed without much response, the power firm has disconnected its supply.
"During the meeting on May 12, it was decided that the residents would start paying, but nothing has happened in the past three days. Since yesterday was Buddha Pournima, which is celebrated at the colony, we didn't disconnect the supply," said an official from Adani Electricity, adding, "As there is no response from residents in terms of paying outstanding bills, we are left with no choice but to disconnect the supply."
Siddharth Colony has been battling with the issue of non-payment of electricity bills since 2005. According to Adani Electricity, of the 3,524 consumers there, most are not paying bills and the outstanding amount has reached Rs 102 crore. The residents, however, claim that the redeveloper has promised to pay the outstanding bill.
With an aim to end this deadlock, a meeting took place on February 25 and it was mutually agreed that the residents would start paying outstanding dues from June 2019 while the previous bills would be discussed later. Adani Electricity officials said the residents were still not paying the dues, hence the power firm started disconnecting the supply every day from May 6.
07 am
Time when power supply was disconnected