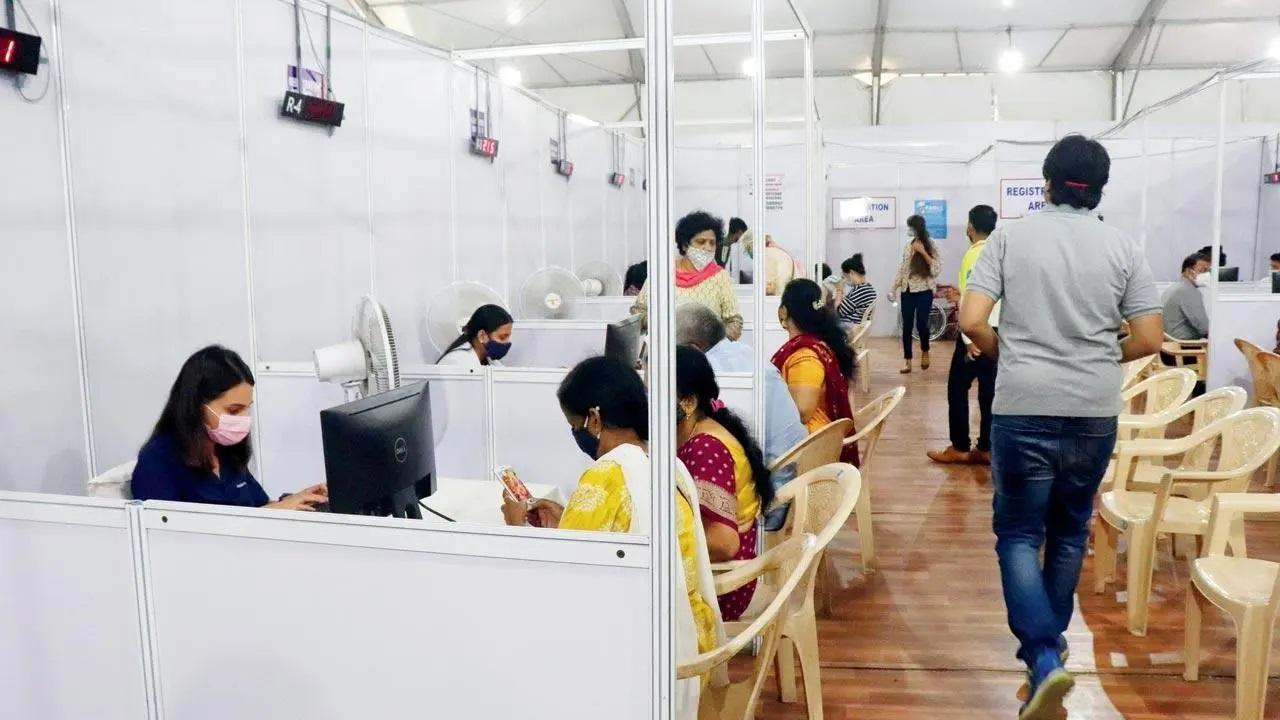 Two years ago, while the Covid-19 was at its peak in Mumbai and the medical facilities were struggling with the increasing number of patients, the Maharashtra government had decided to build a jumbo Covid centre at the Bandra-Kurla Complex (BKC). On May 19, the BKC jumbo Covid-19 centre, which has also been one of the major vaccination centers in the city, will be marking the date by facilitating frontline workers and Covid warriors for their contribution during the deadly Covid waves.
According to the press release, the event will begin at 1 pm. The ceremony will be attended by Iqbal Singh Chahal, Commissioner of the Brihanmumbai Municipal Corporation (BMC), Dr. Sanjeev Kumar, Additional Municipal Commissioner (Western Suburbs and Health), BMC, Dr. Rajesh Dere, Dean BKC Jumbo Covid and vaccination centre and nodal coordinator for all BMC jumbo Covid and vaccination centres.
On the same day, a documentary on India`s largest Covid transit hospital will be launched followed by the inauguration of the annual report of BKC and treatment protocol. About 500 plus Covid warriors and survivors will gather at the centre. They will switch on the torch lights of their mobile phones for a minute to express gratitude to Covid warriors.
In 2020, the Government of Maharashtra, the Mumbai Metropolitan Regional Development Authority (MMRDA) and the BMC had jointly worked to build a transit hospital at BKC, MMRDA grounds. The MMRDA was assigned the responsibility of building the facility by state Chief Minister Uddhav Thackeray. The MMRDA completed India's first and largest well-coherent make-shift jumbo hospital with 1,026 beds in a record time of 17 days (PHASE 1).
The make-shift hospital was made with state-of-the-art facilities providing best patient care at par with private hospitals. With the increasing number of cases, MMRDA in coordination with MCGM further built PHASE 2, ICU Facility (108 beds) in about 18 days. This was was inaugurated on June 17, 2020.
BKC jumbo facility spans over 3,30,754 sq. ft of area. It has about 2,500 beds (oxygenated and non-oxygenated beds, ICU beds, high dependency unit, container ICU, post-Covid OPD, paediatric and disabled wards, dialysis beds, in-house VITL (pathology), swab testing lab, in-house radiology and CT scan department. With a high-tech patient information system where relatives of the patients can automatically get information and updates about the patients` clinical status, lab reports, etc., through SMS. As per the records of the BKC jumbo Covid and vaccination center till May 11 this year, 26,683 patients have been successfully treated and 4,81,797 people have been vaccinated at the hospital.
Sharing her experience during the Covid waves while working at the jumbo Covid center, Dr. Sonali Vijay Kirtane, Intensivist and ICU admin at the BKC jumbo Covid and vaccination centre said, "I have had both happy and sad experiences here. I have seen people with medical conditions recovering and going home happily which used to make me and my team feel happy too and then there were also times when I saw relatives of patients worried and restless, it was saddening."
While speaking about how different it was to work at the transit hospital, Dr. Muzil Munshi, Intensivist at BKC jumbo Covid and vaccination centre said, "Working here was different from past experiences. During these two years we faced atleast two cyclones as well, but in the end, we stood strong. I had great support from Dr. Rajesh Dere, Dean of the hospital at all the time. These two years have been really memorable. We have had atleast 300-400 doctors during the period and we still are in touch, we share our lighter and harder moments, it is like a one `jumbo family` for us, also, there are patients to whom me and my team used ask, how they were while they were admitted here and now some patients call us and ask how have we been doing."