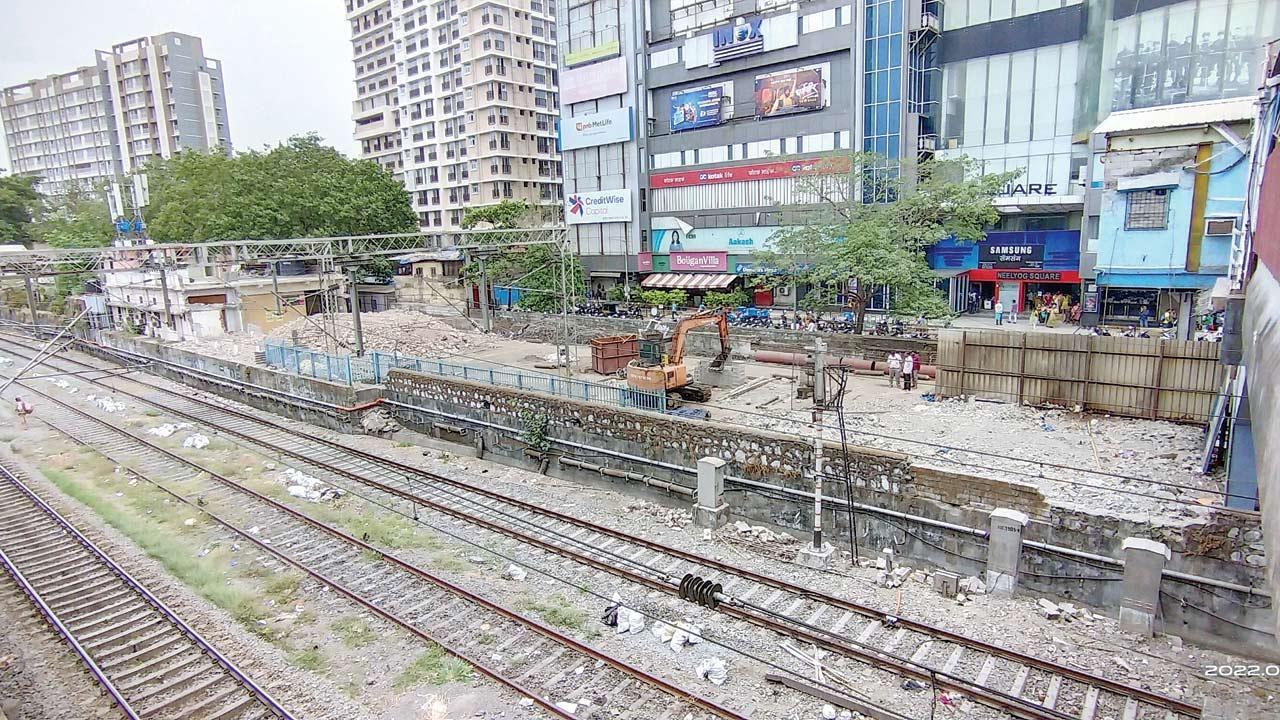 Highlighted by mid-day, promised by former railway minister Piyush Goyal, Ghatkopar station upgrade work has finally begun taking shape, with the old ticket booking office in the east being razed and the construction work now moving to the platform area. The new station with elevated decks is expected to be ready in three years. Ghatkopar is an important junction since it sees the integration of Metro Line 1.
Working on Ghatkopar station has been a challenge due to intensive crowding and constant movement of passenger and trains. Given that there is no immediate space even outside the station, working with heavy equipment has been a problem with limited headroom. We have now started work near the east side open space in railway land by pulling down the ticket office," a senior official said.
Work is underway on the east side of the station at Ghatkopar
As per the plan, Ghatkopar station which sees about 1.93 lakh commuters per day—based on ticket sales at the station—and an average footfall of about 3.87 lakh commuters per day, including passing commuters, is now getting a massive seven-point upgrade with three new 12-metre foot bridges, all linked by an elevated deck, an additional skywalk along the road and seamless connectivity for passenger movement.
"The old booking office in the east has been pulled down and work has also begun simultaneously on platform one of the stations for foundation work. An elevated deck on the lines of Andheri and Goregaon has been planned with all the foot overbridges and the Mumbai Metro Line One station being linked for seamless connectivity. It will be like moving the entire station one floor up," he added. Ghatkopar has been an important junction station since it sees large footfall due to integration of Mumbai Metro Line 1.
mid-day had highlighted in a front-paged report in its August 30, 2019 edition—Next Disaster Arriving on Platform No.1—how Ghatkopar station had become a death trap. Following this, Member of Parliament from northeast Mumbai Manoj Kotak followed up the issue with the then railway minister Piyush Goyal. At a public function on September 13, 2019, Goyal had directed railway officials to come up with an elaborate plan to upgrade the station.
A computer-generated plan for Ghatkopar station upgrade
The work is being done by Mumbai Railway Vikas Corporation (MRVC) that had been facing a fund crunch till recently. Officials said with the funding restarted and more expected soon, work on MRVC projects will be speeded up.
The Ghatkopar station upgrade could have begun earlier but was facing issues due to lack of space. Railway officials said they intended to use high tech European piling machines to speed up the work as lack of physical space for construction work was one of the key problems.
Over the years, local train commuters have complained of the slow pace of work.
Seven-point plan for the busy station
1. 12m wide footbridge with double discharge proposed at Kalyan-end in replacement of existing 4m wide footbridge.
2. 12m footbridge proposed in the middle at north-end of existing 12-m wide middle FOB.
3. 12m footbridge with double discharge at CSMT-end in replacement of existing 4m wide footbridge.
4. 7.5-metre-wide elevated deck connecting to Metro station and all foot overbridges.
5. Staircase /ramps proposed for connection with Metro station.
6. Skywalk proposed on road connecting to the Metro station.
7. 6-metre-wide connection is proposed to the existing BMC skywalk.
1.93
Daily footfall (in lakh) at Ghatkopar (station-originating commuters)