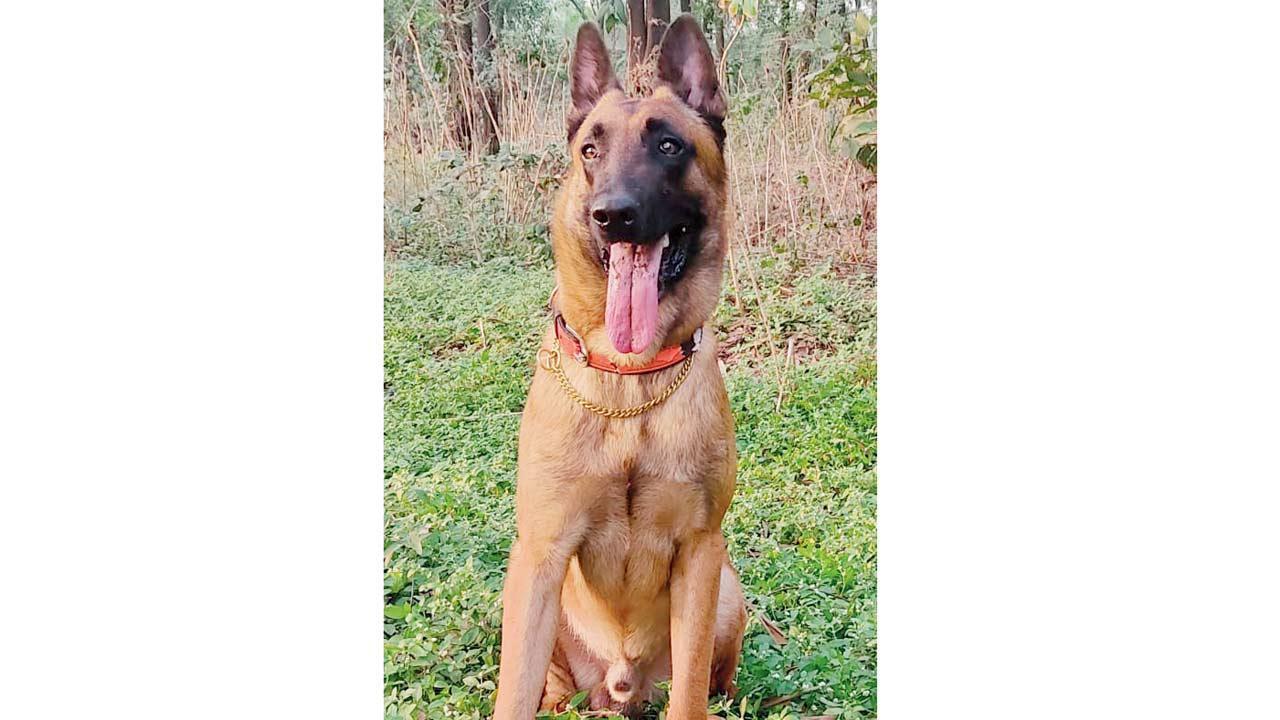 There appears a crack in the Goregaon bomb squad unit over the decision to retire Jordan, a young police dog with an exemplary record, after he bit a couple of people on the team, said sources. They, however, suspect the officers who reported the incidents and suggested retirement mishandled Jordan. And, as Belgian Malinois are an aggressive breed, Jordan reacted in self-defence.

Jordan, who is now three-and-a-half-years-old, joined the Mumbai police force in 2019, and has since participated in over 500 VIP checking, including at IPL and celebrity events. He is the best among the 24 dogs in the bomb squad team, said police sources. The fact is that until now, Jordan didn't bite any outsider or while on duty, they added.
Jordan with his first handler, who is on leave currently
He has been working with the Goregaon unit of the bomb squad. Now the department plans to put him up for adoption. A source in the Goregaon bomb squad said, "Jordan is a Belgian Malinois, which is an aggressive breed. They always need a handler, and if someone else tries to handle them, they attack the person in self defence. At 2.5 months, Jordan was assigned a woman officer who has been his handler since. Jordan never bit her."
"She went on maternity leave some time back, and others in the team are having difficulty handling Jordan. He recently bit two officers and his second handler, and also another dog after they got into a fight. However, he has never bitten anyone before, while his first handler, the woman officer, was around. "Some officers misreported the incidents and submitted a report saying Jordan should retire. They also took the help of a veterinarian from Parel, who submitted a report stating he is aggressive," the source added.
Unfair
Officers said the department has begun the process for Jordan's retirement. "It's unfair. He is still young. If the police department retires Jordan, nobody will take care of him. Moreover, his entire training and career will go to waste," said another source.
The office of the Goregaon bomb squad
A police officer from the dog squad said, "Jordan was born in Murbad in November 2018, and joined the bomb squad on January 17, 2019… We suspect Jordan bit the officers due to mishandling or some fault of theirs. We can't blame Jordan. We should give him more training instead of retiring him." Nilesh Salunkhe Patil, in-charge of the bomb squad, Goregaon, confirmed the incident, but refused to comment on the matter.
Expert speak
"No dog ever wakes up one day and decides to bite. There has to have been a process of learning where the dog has decided that biting is the best option in a situation of conflict. Poor training could be to blame, too. Tackling the root cause of the aggression is the best way to work," said Shirin Merchant, India's pioneering canine trainer and behaviourist.
2019
Year Jordan joined the Mumbai police force