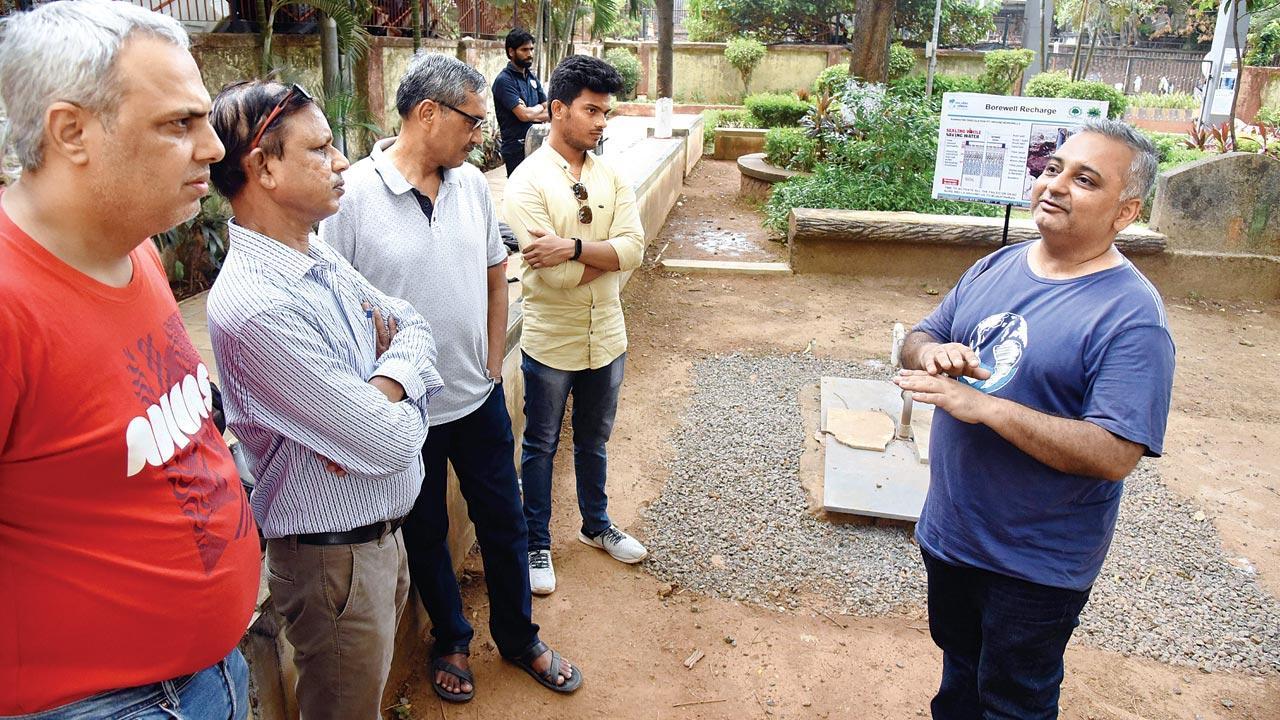 A water conservationist has devised a plan to kill two birds with one stone. He has come up with a solution to address two issues—too much water in monsoon and too little water under the ground.
To reduce waterlogging during the monsoon and recharge depleting groundwater level, Subhajit Mukherjee is giving away 2,500 barrels for installation of rainwater harvesting percolation pits at housing societies. So far, 1,500 barrels have already been distributed.
Through his organisation, Mission Green Mumbai, he has stepped up efforts to popularise the rainwater harvesting concept in the city, as May and June are considered critical months for installing the system.
He also trains and gives a demo of the installation at Rajiv Gandhi Udyan in Kandivli West.
Mukherjee said, "When you give it for free, people are curious and want to learn more about it. They become interested in learning. People also seemed to have appreciated my low-cost method. Typically, a rainwater harvesting system costs around R1 lakh. My formula costs less than R1,000," he said.
The city receives 3,750 million litres per day (MLD) of water from the civic body, whereas it requires 4,200 MLD. To reduce dependency on reservoirs, the BMC in 2002 mandated that all new constructions larger than 1,000 square metres install rainwater harvesting systems in order to obtain an occupancy certificate (OC). Later, plots larger than 500 square metres were also asked to include rainwater harvesting units.
"Many societies have the system in place, but not all of them maintain it. We are focusing on encouraging societies to adopt rainwater harvesting as soon as possible," said a senior civic official.
"The big game-changer for Mumbai, in terms of improving water supply, will be treating sewage water. We are working feverishly on it. Simultaneously, rainwater harvesting method, utilising percolation pits, will help recharge the groundwater table while also reducing waterlogging," the official added.
How the system works
The rainwater percolation pit is a simple mechanism wherein a pit is built to collect rainwater, which then slowly percolates into the soil. It channels rainwater from your terrace into a specially designed underground pit to conserve and recharge groundwater as well as ponds, lakes, bore wells, deep tube wells, etc.
The method entails digging a 10×10 feet pit and filling it with pebbles and stones. The chamber also has a channel for collecting water, which eventually recharges the groundwater. "There is an estimate that a 6×6 feet pit helps to take 1,000 litres of water into the land," Mukherjee said.
Why the need
Due to rapid concretisation, Mumbai is flooded every monsoon. According to research, there is over 70 per cent increase in concrete surfaces in the city, reducing absorption of rainwater leading to depletion in groundwater levels. "Trees do not survive and the frequency of heat wave is rising, because of depleting groundwater levels," Mukherjee pointed out.
Moreover, it is causing health problems, increasing surplus heat and decreasing oxygen levels, he said.
He added, "So far over 5,000 people have attended the demo for installation. However, not all societies have space for percolation pits. We are giving away barrels to societies that have space."
2,500
No. of barrels being distributed for free