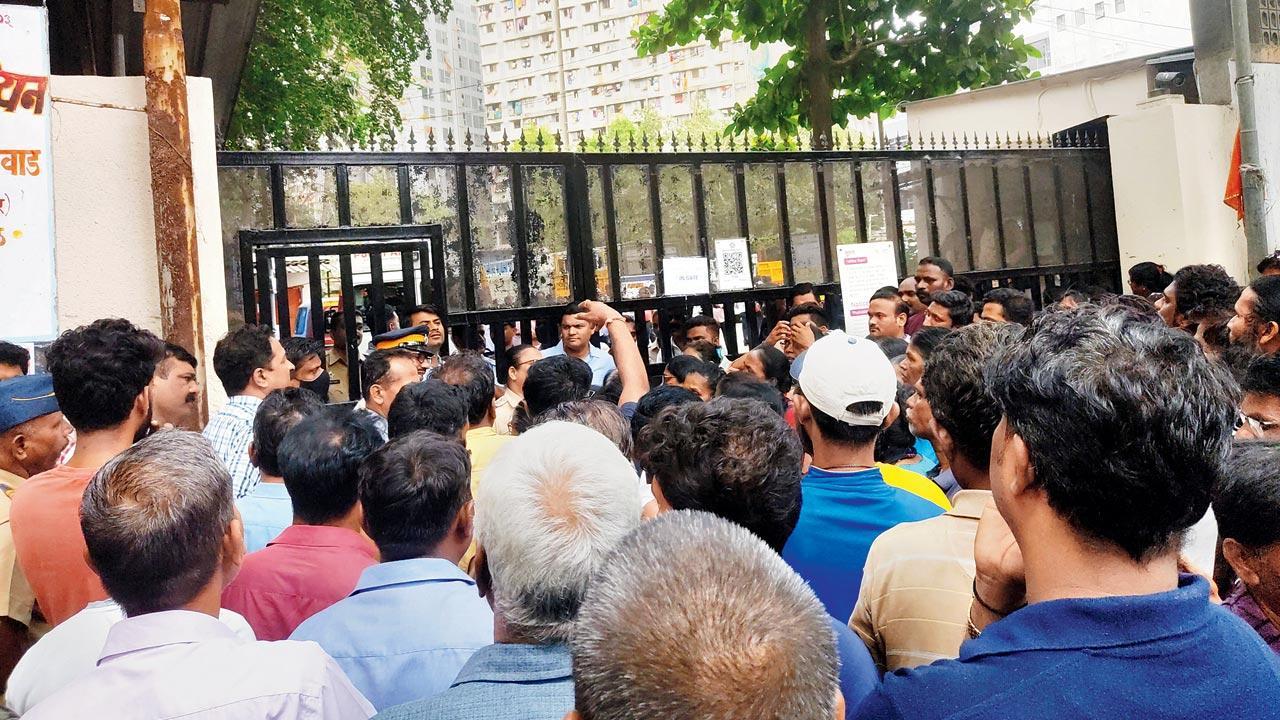 Fed up with the daily power disconnection by Adani Electricity Mumbai Limited, hundreds of Siddharth Colony residents gheraoed AEML's Tilak Nagar plant on Thursday for more than 13 hours. Residents claimed that AEML acted inhumanely and disconnected supply around 4 am on Thursday. Citizens started the gherao at 8.30 am and continued till evening. Tilak Nagar police had deployed personnel along with SRPF platoon as 100-odd employees were held hostage inside the plant due to agitation. A delegation met AEML officials, following which they were given two days' time to pay the running bills. The gherao was called off at 9 pm after 13 hours.
Representatives of Siddharth Colony Ghar Hakka Sangharsh Samiti had meeting with AEML officials in presence of DCP (Zone 6) Krishnakant Upadhyay.
Protesters demonstrate outside AEML's Tilak Nagar plant
Siddharth Colony in Chembur has been battling the issue of non-payment of electricity bills since 2005. According to AEML, most of the 3,524 consumers have not paid the bills and the outstanding amount has reached Rs 102 crore. The residents, however, claim that the redeveloper had promised to pay the outstanding bill. A meeting was held on February 15 to end the deadlock and it was agreed that the residents will start paying outstanding dues from June 2019 and the previous bills would be discussed later.
AEML officials said that even after mediation, a majority of the residents are not paying the bills. The power company has booked more than 200 residents for power theft.
From May 6, the company started disconnecting power supply to these residents in the morning which lasts through the day. AEML officials said they were left with no option but to take such action, but they are continuing to give electricity in the night in view of the summer.
"AEML has started behaving inhumanely. They disconnected power in the middle of the night, making children and elders suffer. Hence we decided to gherao AEML plant," said Bhagwan Garud, a resident.

Vandana Kamble, a protester, said, "I woke up around 3.30 am when they disconnected the power. Nobody could sleep due to the heat. I work as a house help, how am I supposed to work without getting enough sleep?"
Another resident Ratna Vimal said, "We have been sitting here since morning without food. But it's better to sit here and protest rather than sitting home and sulking without electricity. Everyone is trying to pay the bills as per their capacity, but Adani wants us to pay a lump sum amount which is not possible for us."

Sachin Gaware, a protester, said, "Things are getting serious. AEML officials said they had started supply for 2 hours for us to get the water, but won't restore the supply again. If Adani and the cops don't find a way, we will start a hunger strike. The government must step in to solve this."
Rs 102CR
Total pending dues
3,524
No. of consumers who have not paid bills