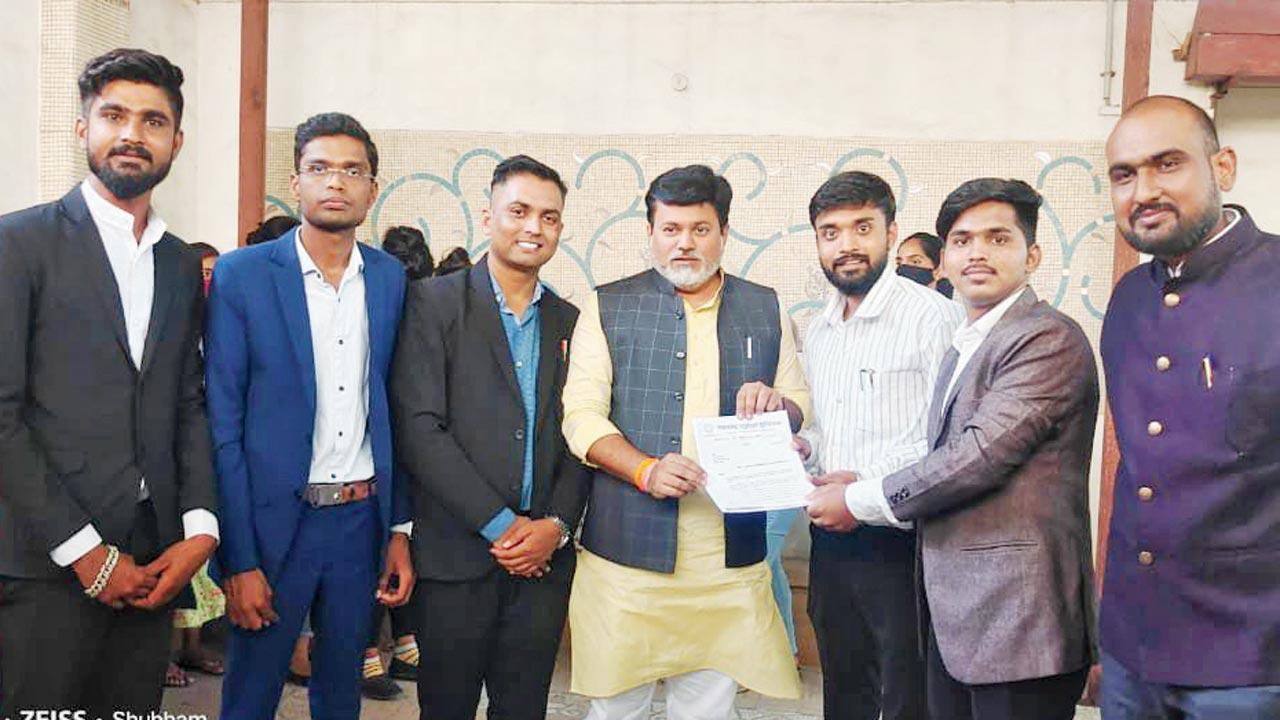 Students unions have written to the state government, pressing for a stipend of Rs 5,000 for fresh graduates , but to no avail. Meanwhile, Karnataka has already implemented stipend for lawyers and Kerala is set to implement it soon. Maharashtra, however, had a similar scheme in 1981 which was scrapped a year later.
mid-day on May 12 reported how the students demanded the stipend, on the lines of Karnataka and Kerala, in a meeting with the higher and technical education minister Uday Samant.
Advocate Vasant Salunke, chairman of Maharashtra and Goa (including Dadra and Nagar Haveli, and Daman and Diu) Bar Council, said, "Our bar council has been writing time and again to the state government for the past three decades, requesting them to start a monthly stipend. But till date, our plea has gone unheard. It usually takes between three to five years for young law graduates to lay hands on their practice and clients independently, and therefore the need for providing this stipend was mooted."
"During the tenure of Babasaheb Bhosale, he had introduced a stipend of Rs 300 for law graduates, but after a year, with his exit as CM, the practice came to a halt," said Salunke, who practises at Aurangabad bench of Bombay High Court, since its inception 40 years ago.
When asked about the number of advocates registered with the Bar Council, the chairman said, "We have approximately 2 lakh registered advocates and on an average, we get around 5,000 law graduates registered every year. However, the number of registrations done last year was at an all time high with 23,800 graduates registering with us."
Other states
"As per my information, around four to five states have already taken up proactive steps towards grant of stipend which include Kerala, Karnataka, Madhya Pradesh, Telangana, etc. and the Delhi government has made budgetary provision of around Rs 50 crore to support lawyers in the national capital," said Salunkhe.

Advocate Joseph John, secretary, Bar Council of Kerala, said, "The government of Kerala had mooted the concept five years ago and the same will be implemented soon. We have worked out the modalities and the fund will be released from the Kerala Advocates Welfare Fund Act, wherein each beneficiary will be entitled for a stipend of Rs 3,000 per month for a year to begin with, subject to yearly review by the committee and subsequent eligibility approval by the Bar Council for Kerala."

T Gowda, secretary, Bar Council of Karnataka, said, "The government of Karnataka had introduced the scheme two years ago, wherein a stipend of R2,000 is paid to registered junior law graduates. The entire activity is handled by the Law and Judiciary department of Karnataka and the bar council has no role in it."
What advocates and lawyer say
Advocate A D Benny, who practises in the District Court, Thrissur for the last 32 years, said, "The fact is Kerala government announced the proposal in 2018 but unfortunately it is only on paper. In practice, fresh law graduates, whose income is less than a lakh a year, haven't been getting any stipend from the Kerala government."
"It is a welcome move that the Maharashtra government is contemplating providing a stipend to law freshers. Lawyers hailing from humble backgrounds need such stipend for the initial period of struggle," said Advocate Rajeshwar Panchal, who practises in Bombay High Court. "This profession is tough. By 22-23 you become a lawyer and at that age you are expected to earn, but not many seniors offer stipend. Lots of juniors don't even get to join seniors. This often leads to either change of profession or resorting to unethical means to generate funds. It is detrimental to the profession as a whole," said Advocate Swapnil Ambure.
"I sympathise with the fresh law graduates who don't earn or earn less, but the fault lies equally with them, as some of them do not know the rudiments of law, and don't have an inclination to know as well. Stipend will be easy money for them than learning the tough way on the job," said Edrich Miranda, a legal advisor.