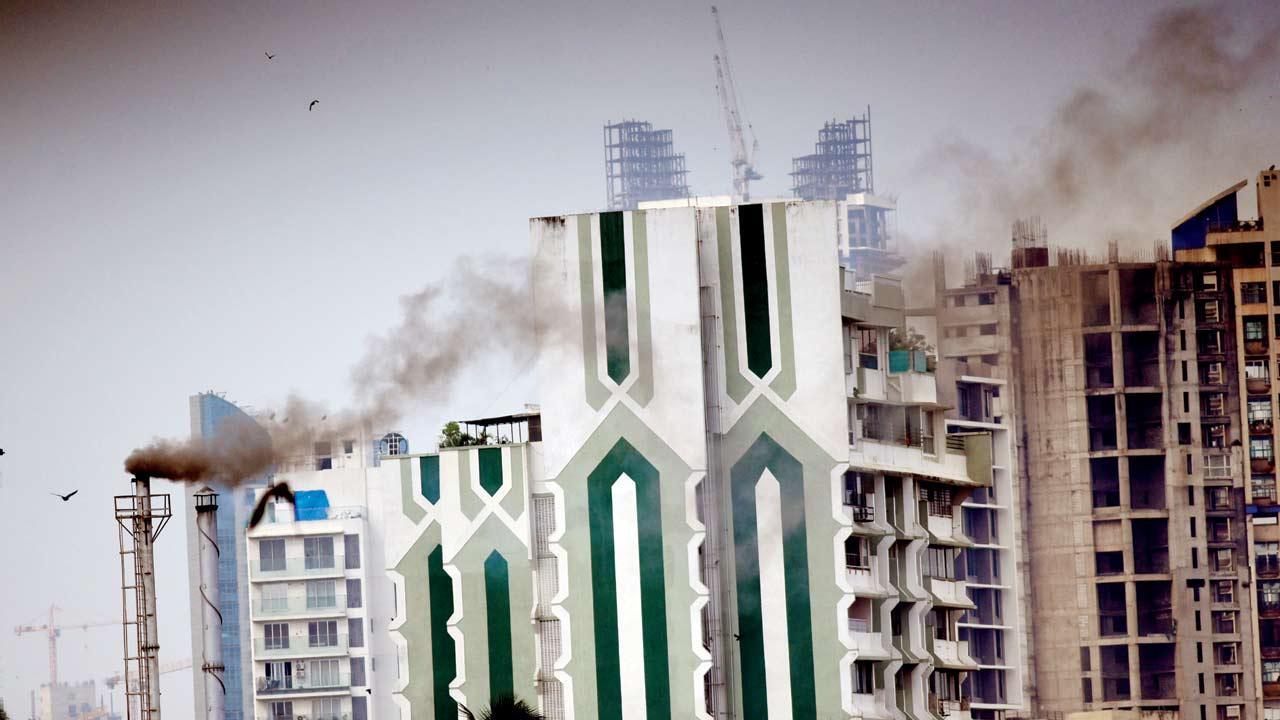 To reduce air pollution in the city, about 40 per cent of all industrial units and power plants within city limits should switch to natural gas, renewable energy, and low-sulphur fuel by 2030, the recently launched Mumbai Climate Action Plan has suggested. Reduced air pollution will lead to improved health and better productivity, says a survey report under the MCAP. The energy sector is the biggest contributor to emission woes, it says.
The plan suggests that the state industries department along with owners of private units as well as the Maharashtra Pollution Control Board (MPCB) develop an action plan and mitigation strategies for the existing industrial units within the city periphery for reducing industrial pollution within a time frame of 2022 to 2026.
According to the World Health Organization, 14 of the 20 most polluted cities across the G20 economies are in India and over 50 per cent of the cities throughout the country have critical levels of PM10 pollution. The plan sets an ambitious target of zero use of diesel generator sets through an uninterrupted power supply for Mumbai by 2025.
Smoke rises from a factory in the city. File pic
According to MCAP, Mumbai's greenhouse gas emissions are expected to reach 64.8 million tonnes of CO2e (carbon dioxide equivalent) a year by 2050, increasing 2.7 times between 2019 and 2050, assuming no mitigation interventions are implemented. The projection is slightly higher than the business-as-usual trajectory at the Indian level, which estimates the surge at 2.5 times. Mumbai's greenhouse gas emissions in 2019 were 23.42 million tonnes of CO2e or 1.8 times CO2e per person.
Emissions are expected to reach 51.3 million tonnes of CO2e a year by 2050, based on current policies to reduce air pollution at the city, regional, and national levels. "Identify new strategies for the short and medium terms and assess the barriers in implementation. In order to arrive at its overarching mitigation target of net-zero emissions by 2050, Mumbai has committed to achieving a 30&#37 reduction by 2030, 44&#37 by 2040 and net-zero by 2050," says the report.
"The MCAP team conducted an in-depth vulnerability analysis of Mumbai, following which a greenhouse gas inventory was prepared to identify the city's critical sources and sinks of greenhouse gases which then guided action tracks to reduce emissions. It then suggested 30-40&#37 of all industrial units and power plants in and around Mumbai to the usage of natural gas, renewable energy, and clean fuel by 2030," said a BMC official.
Ashok Shingare, Member Secretary of MPCB said, "It is seen that MIDCs do not have a sufficient amount of clean fuel and efforts are being made at their level to deal with this issue. The issue cannot be resolved only by MPCB or MIDC, it needs collective efforts from all stakeholders including the department of energy." Shingare added: "MPCB has already directed all industries, particularly in areas classified under comprehensive Environmental Pollution Index or polluted industrial areas to strictly stop using furnace oil as fuel which causes huge emission of sulphur dioxide and other pollutants and switch to cleaner fuel or renewable energy as soon as possible."
100&#37
Planned reduction in use of DG sets by 2025