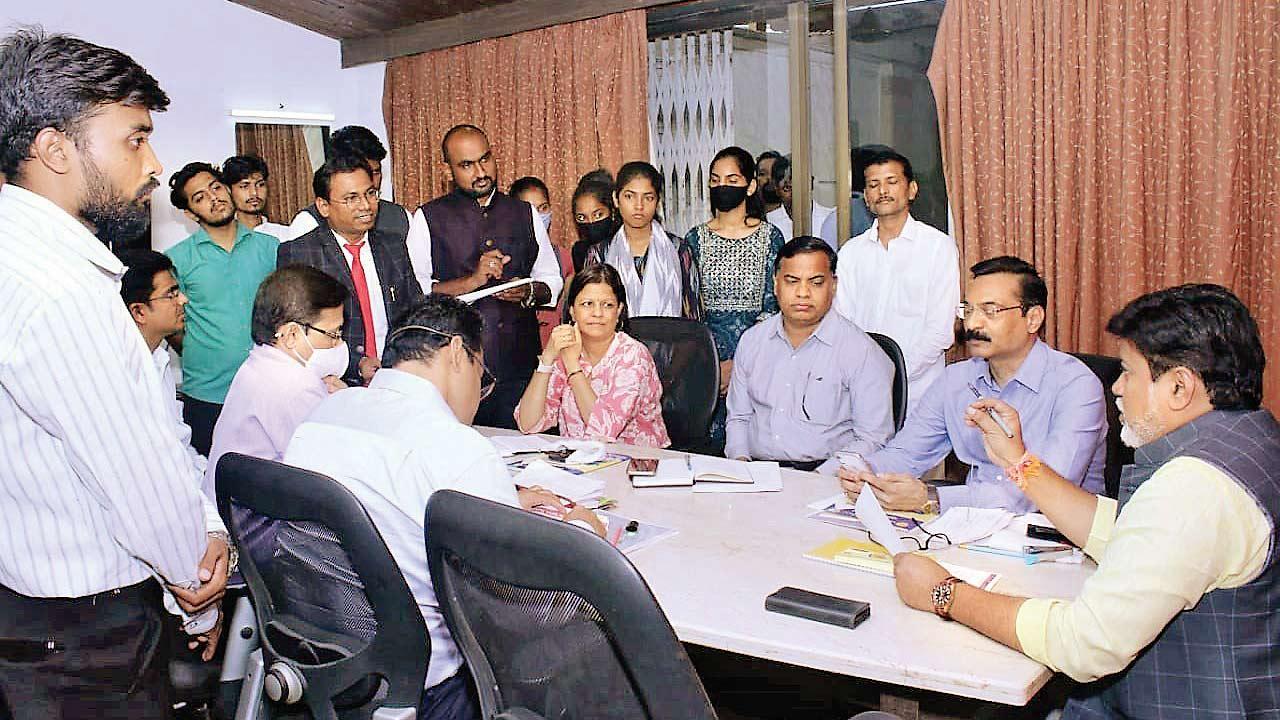 A monthly stipend of Rs 5,000 to fresh law graduates in line with Kerala and Karnataka was among the charter of demands that Maharashtra Students' Union representatives made to Higher and Technical Education Minister Uday Samant last week. The minister met the union representatives to discuss students' grievances.
Siddharth Ingle, president of the Students Union, said, "The meeting was scheduled as the minister could not have a dialogue with the union representatives in Jalgaon two months ago, where he had gone to attend a programme organised by the Jalgaon University for students from Jalgaon, Dhule and Nandurbar, for a face-to-face dialogue. As the minister was running short of time, he agreed to meet us at Mantralaya. He accepted our written memorandum, but could not discuss our demands."
"Since then, we did not hear from the minister nor his office, and continued with our sustained follow-up, which finally resulted in the minister agreeing to meet with us at Shivalaya, opposite Mantralaya, where he meets the public every Wednesday in his 'janta darbar'. Last Wednesday [May 4], our representatives from all over Maharashtra including Jalgaon, around 20 to 25 members met the minister and had a detailed discussion on various issues that were listed in our memorandum, already submitted," claimed Ingle. One of the major concerns of the students was fresh law graduates' stipend, which Kerala is in the process of implementation, whereas Karnataka has already implemented it. Maharashtra is yet to announce such a scheme for fresh law graduates, said Ingle.
Asked to elaborate, Ingle said, "It is a fact that fresh law graduates do not get paid during the initial years of their practice and the situation has worsened post-COVID and subsequent lockdowns, wherein many practising lawyers had to face financial hardship. We must understand that a freshly passed out law graduate needs to register himself with the Bar Council of Maharashtra and Goa for which the registration fees have increased from R7,500 to R15,000. Also, the fresh graduate has to mandatorily appear for the All India Bar Examination (AIBE) within two years of passing out and the examination fee itself is R2,800, passing out of which entitles the applicant to get 'Certificate of Practice' which allows him to practise in any court in India excluding the Supreme Court."
He added, "With no source of fixed incoming coming to the practising fresh law graduates, and also the stringent condition of not taking up any employment post registration as advocate and subsequent issue of 'Sanad' (licence to practice) as per the Advocate Act, the young advocate has to depend only on his legal practice for earning a livelihood…."
"The minister has, on the face of our discussion, acknowledged our concern, and has given an assurance to look into the same. However, he hinted that granting Rs 5,000 per month, per graduate may not be viable, but would still try his best to resolve this concern area," said Ingle. Attempts to contact Samant did not yield any result.