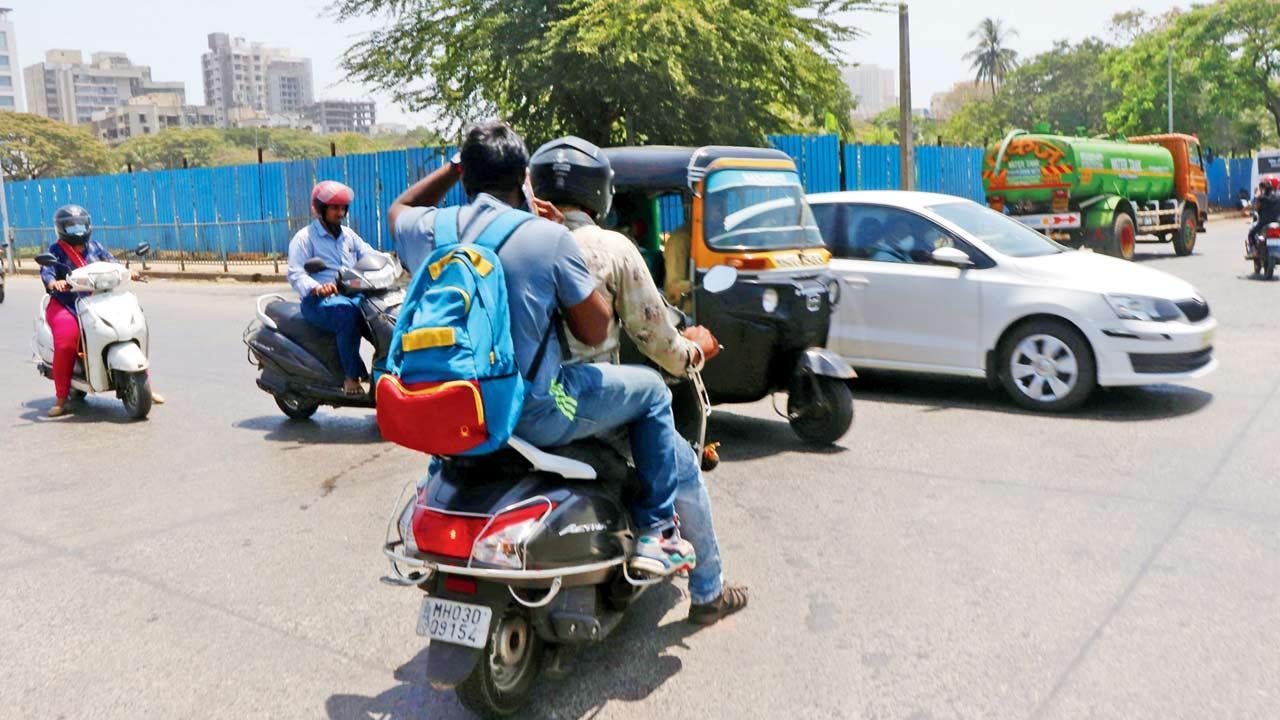 Over a month after mid-day's expose on their partners' rash and dangerous riding, Rapido, the bike taxi provider, announced measures like helmets and an SOS button for the safety of customers. During a drive early last month, correspondents of this paper had first-hand experience of the riders' recklessness.

mid-day correspondents had the same experience with Uber bike taxis as well. However, the company has not made any announcement over the past month about addressing the problems pointed out by this paper.
Meanwhile, Rapido said it has taken cognisance of the shortcomings in the functioning of bike taxis, as highlighted by mid-day, and made fundamental changes. From now on, customers will get a helmet and the bikes are equipped with an SOS button to be used in case of rash driving or other safety-related incidents.
A mid-day correspondent takes a ride (without a helmet) on a Rapido bike taxi, from Andheri railway station to Vile Parle, on April 1. File pic
Listing out the new measures, a Rapido spokesperson said, "We collect and validate all KYC documents of our rider partners [called captains], like PAN/Aadhaar cards and driving license. Captains have helmets for pillion riders, and we train them regularly. We also have a live tracking feature which users can share with their trusted contacts."
"We also have an SOS button, which can be used to connect with the Rapido team in an emergency situation. Our team is active 24X7 on SMS and other avenues, where customers can reach us for any incident and our team takes real-time action. We provide insurance to our rider partners and our customers during the ride," the spokesperson added.
mid-day also contacted Uber, but it didn't respond. During the drive on April 1, mid-day correspondents took several rides on bike taxis of both Uber and Rapido, and noticed various shortcomings: absent helmets, rash negligent riding, jumping of traffic signals and zipping through patches of empty highways, endangering the customer's life.
Rapido has introduced the helmet option on its app
Faced with heavy traffic, more people are now opting for bike taxis, particularly for its lower rates and a two-wheeler's ability to navigate even narrow lanes of the city. Hence any negligence on the part of the providers threatens the lives of their customers.
April 1
Day mid-day hailed multiple rides on Rapido, Uber