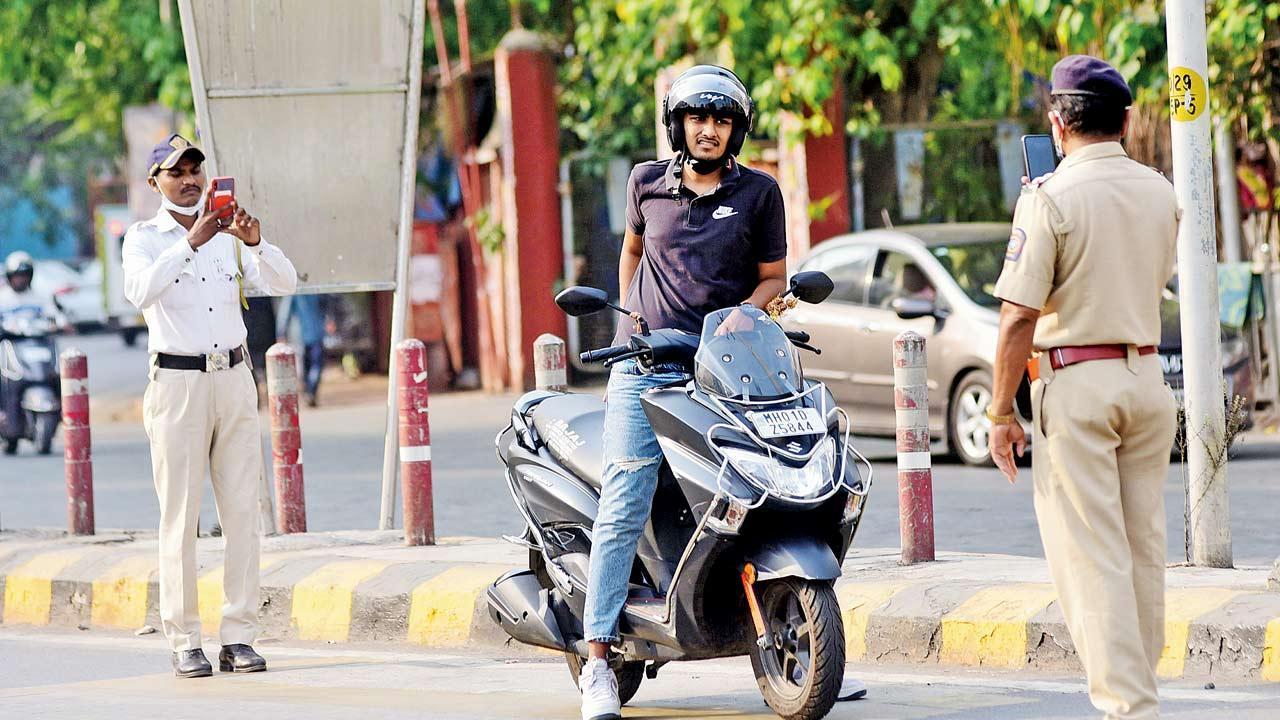 Since the launch of a campaign by Mumbai Police Commissioner Sanjay Pandey to instil road discipline among motorists in the city on March 6, the traffic cops have hit a milestone by taking action against over 5 lakh violators in just two months. While it first aimed at curbing wrong-side driving, the efforts extended to punishing helmetless bikers and removing abandoned vehicles from city roads.
As per official data, between March 6 and May 7, the traffic police booked 10,931 motorists for driving on the wrong side. "This time we are not only issuing challans against the wrong-side riders but also taking them to the police station to register FIRs under various sections of the Indian Penal Code to ensure that the violators don't repeat it again. Now every day, all police stations are registering 5-7 FIRs based on complaints by traffic officials," said Rajvardhan, joint commissioner (traffic).
A traffic policeman chases a biker without a helmet, outside LTT, Kurla, on February 7. Pic/Sayyed Sameer Abedi
The traffic police focused more on the areas near railway stations as there were multiple complaints by citizens, said the top officer. "Pedestrians were finding it very difficult as proper traffic behaviour was not followed outside railway stations. In a special drive, we took action against 77,912 vehicles for the violations," said Rajvardhan.
The department has also been told to cancel the licence of those involved in wrong-side driving and riding without a helmet. Officials said they have sought cancellation of the licences of 6,839 people helmetless riding and 3,424 for driving on the wrong side. "Most of the accidents are happening because of wrong-side driving and the deaths are also taking place where people were found riding without helmets and that's why our main focus remains on these two aspects to reduce accident and casualties," said Rajvardhan.
'Counselling them, too'
The traffic cops are not just focussing on fining motorists for infractions, they also hold counselling sessions for serial violators. "We have been counselling them on how to follow proper traffic behaviour and how such violations can take their lives. So far we have counselled more than 4,400 traffic violators," said Rajvardhan.