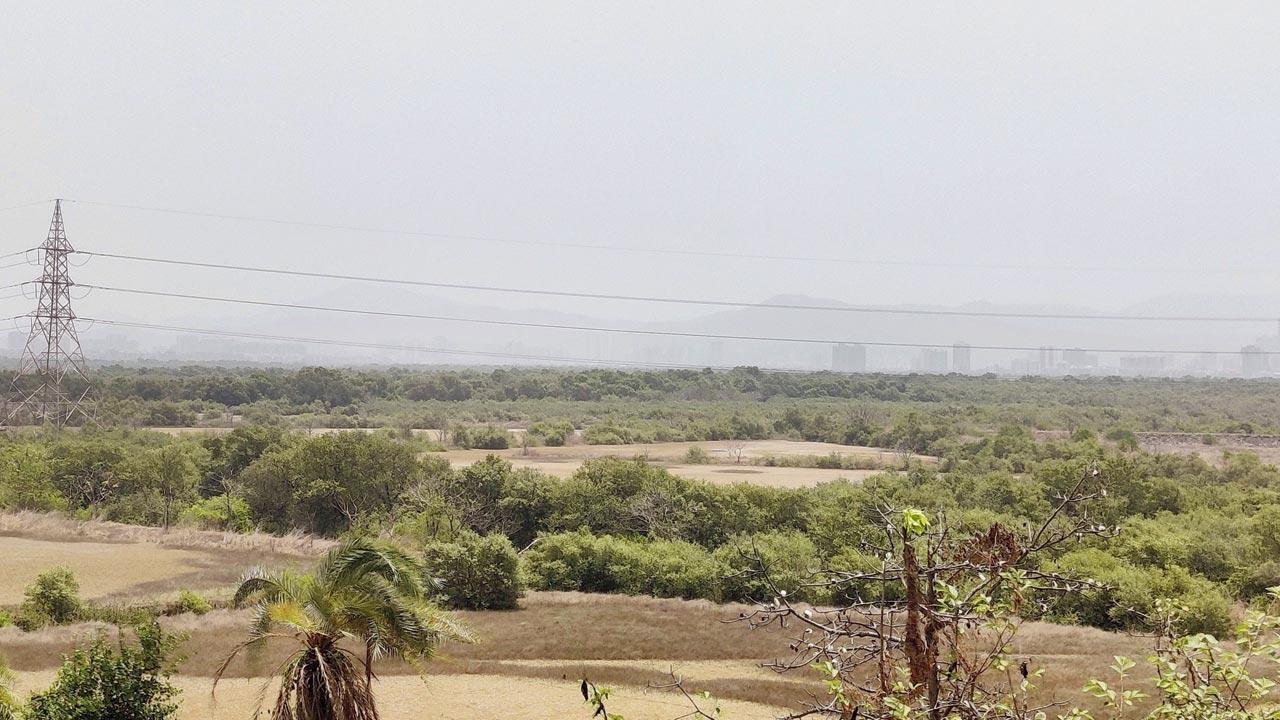 Locals of three villages in Mira-Bhayandar, who have opposed the proposed Metro 9 car shed as they would lose their farmland, have suggested an alternative location. They said it is a government-owned land near Gorai Pagoda, and any construction here would neither displace people nor impact anyone's livelihood.
The villagers said the parcel of land is free of any settlement and huge. A delegation of villagers under the aegis of Bhumiputra Samajik Samanvay Sanstha (BSSS) conveyed this to Maharashtra Urban Development Minister Eknath Shinde in a letter recently, requesting consideration of their suggestion.
The land locals of three Mira-Bhayandar villages have suggested for Metro Line 9 car shed near Khopra in Uttan
The land, which the locals said belonged to the government, is located close to Khopra village in Uttan and near Gorai Pagoda. Villagers said the land is huge and a big car shed can be built here for multiple Metro corridors. It is one of three locations suggested by the BSSS.
Met Union minister
They met Union Mos for Panchayati Raj Kapil Moreshwar Patil last month. BJP corporator Jayesh Bhoir said, "During our meeting with Patil saheb, we explained to him how the car shed will displace locals. On his instructions, a meeting was organised of MMRDA officials with all important stakeholders, in his presence last month. A decision was finalised about visiting alternative locations suggested by the locals. Patil saheb has assured he will help and guide us to solve the problem." The officials visited the site on April 30.
A perfect location
BSSS member Ramesh Patil said, "Some officials from MMRDA and the Mira-Bhayandar Municipal Corporation are misguiding the government regarding the shifting of car shed's location. There is an 300-400 acre government-owned land near Gorai Pagoda where a mega car shed can be built for all Metro corridors. Many upcoming Metro corridors are facing the issue of finding a location for the car shed. If the MMRDA and the government authorities want a solution to this issue, they should seriously consider the option that we have recommended."
The MMRDA will have to just extend Metro Line 9 for around 2-3 km to build the car shed at our suggested location, the locals said. "The land is free of any structures, so there won't be any issue of displacement of people and looking after resettlement and rehabilitation," Patil added.
A 20-hectare land spead across Rai gaon, Morve and Murdha was initially identified to build the car shed for the metro route between Dahisar to Mira Bhayandar. However, villagers have opposed it, saying the lands belong to their ancestors and many would lose their livelihood if a car shed comes up there.
April 30
Day MMRDA officials visited site locals suggested