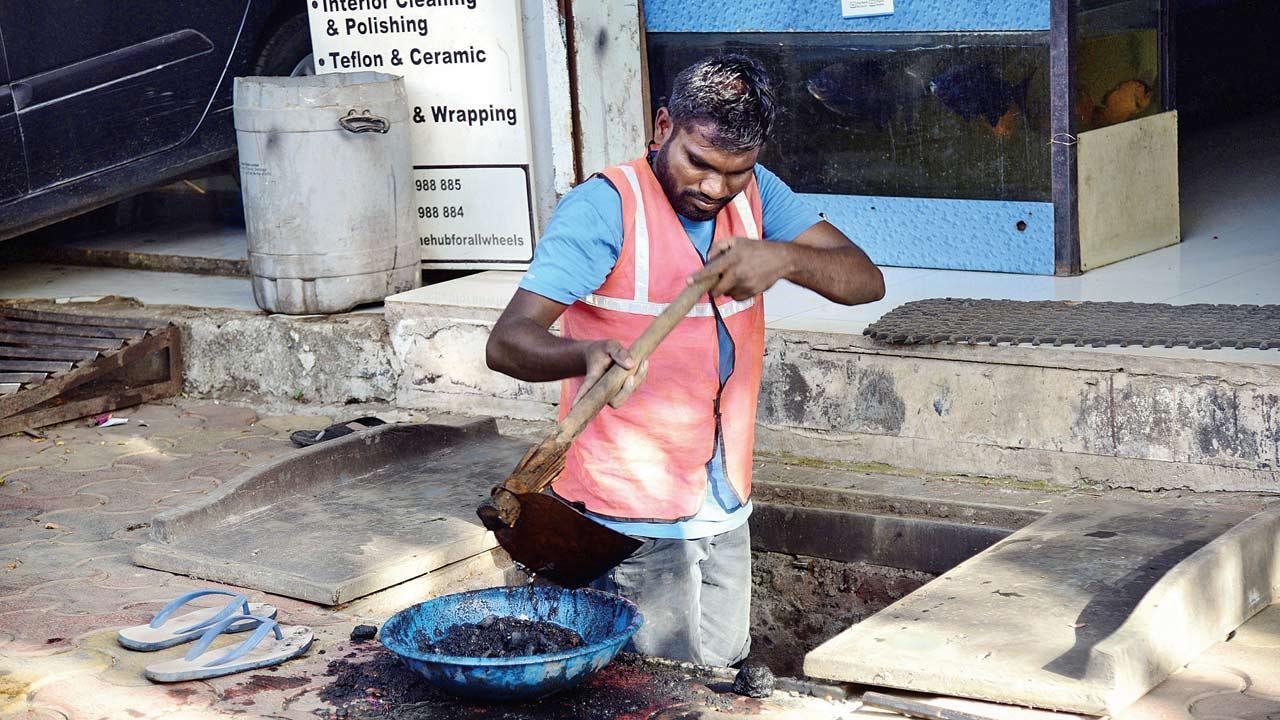 The scorching heat of May means different things to different people in Mumbai. While the more affluent use this time to escape to cooler climes, for some this is the perfect season to prepare the annual stock of papads and spices. There's another group of people who throng Mumbai's nullahs for work. Thousands of men and women can be seen crawling through these gutters taking out silt. Where do these people come from and where do they vanish with the first shower of rain?
These nameless people, who are instrumental in ensuring Mumbai's smooth passage especially through the monsoon, travel thousands of miles from drought-prone districts of Beed, Osmanabad and Amravati, and Salem in Tamil Nadu in the hope of earning extra wages. For some, Mumbai is now home.
Laxmi Harijan opened a tiny shop outside her home, where she sold chocolates, biscuits and toys, to make ends meet. But she doesn't have the money to replenish items in the shop
Though manual sewer cleaning has been banned in India under the Prohibition of Employment as Manual Scavengers and Rehabilitation Act, 2013, the practice continues unhindered. While Bobcat machines—equipment to pick up and clear silt and debris from drains—are used to clean most of the major nullahs, there is a network of 508 small nullahs and tiny gutters, which are cleaned manually. In such cases, the law has made it mandatory to use safety equipment. Poverty, caste discrimination and lack of education has forced them to engage in hazardous labour.
Laxmi Harijan, 42, lives in a 10 by 10 feet kholi in a lane near the sixth number nullah in Malwani, Malad. Malwani is one of the biggest slums in the western suburbs. Laxmi usually takes a bus or shared auto (paying Rs 20) to reach Hindustan Naka near Charkop, where she waits with other daily wage labourers to be hired by contractors. "Every day the cleaning spots change," she says. Laxmi used to prefer walking, but after "my mother died two years ago due to COVID, I was diagnosed with high blood sugar, due to which I am unable to walk as much". Laxmi has been doing this job for almost 22 years now, right after the birth of her first child. "I used to stay in Dharavi before I was married and went to school till Class VI. I wanted to study further, but my father opposed it and instead, got me married. I am lucky to have a good husband. He is a garbage truck worker. Though he drinks regularly, he does not scold or beat me. He was ready to support my education, but I delivered my first baby within a year. The other two came soon after." Laxmi says she started cleaning sewers to support her large and growing family. "In the initial days, I cried a lot, but there wasn't any other option. I tried other odd jobs, but there was greater demand for cleaning nullahs."
Some years ago, in the hope of finding a way out of this, Laxmi opened a tiny shop outside her home, where she sold chocolates, biscuits and toys. She invested around R30,000. "It was running smoothly and I would make around Rs 200-Rs 300 daily, but fancier shops opened up in the neighbourhood and customers started to drop. Now, I need at least R20,000 to stock new toys at the shop." At present, she makes Rs 280 daily. Her tasks involve picking up silt from the gutters. Laxmi has three children—the eldest Ganesh is 23 years old. "He completed Class X. We all advised him to continue with his studies, but he didn't listen. Now he too does odd jobs," said Kavita, the youngest daughter, who is 20-years-old. Though Kavita was keen on completing her HSC last year, the switch to virtual classrooms made it difficult. "Someone stole her mobile phone and with that her dreams to study came to an end. She is now learning sewing. At least if she has some skills, she wouldn't have to do such jobs after marriage," said Laxmi. Vijay, the second son has started doing housekeeping jobs after discontinuing his studies.
Laxmi, who has been cleaning nullahs for the last 22 years, says that she tried to give her children an education so that they could find a way out. While her sons do odd jobs, her daughter is learning sewing. Her husband Aasat is a garbage truck worker
Her husband Aasat told mid-day that his father used to sell rice, but it didn't bring food on the table. Super Raj Harijan, 26, another worker, lives in the adjacent gully. He also cleans gutters in Charkop. Super Raj is unhappy for more reasons than one—apart from his work, it's his unusual name that has left him dejected. He used to study at a local municipal school, but dropped out in Class VIII. This writer found Super Raj in chest-deep sludge inside a manhole without gloves or shoes. "Two years ago, they provided helmets, shoes and gloves, but this time around we haven't been provided with any safety gear. Sometimes there are broken glasses and sharp objects in these sewers, and it can lead to serious injury." In the summer season, Super Raj makes R350 per day for a four-hour job.
His father, Super Mani, moved from Tamil Nadu with his family at a very early age. "My father used to work as a construction labourer. I worked with a municipal garbage truck in Andheri East." His wife, Chinnakanni, clean drains in Kandivli. She earns Rs 300 per day. "I don't work the rest of the year. But I can earn in these two months, and it helps us tide over expenses. I see it as any other job." The family worked even during the pandemic. Super Mani, "Everyone was afraid, but someone has to do this."