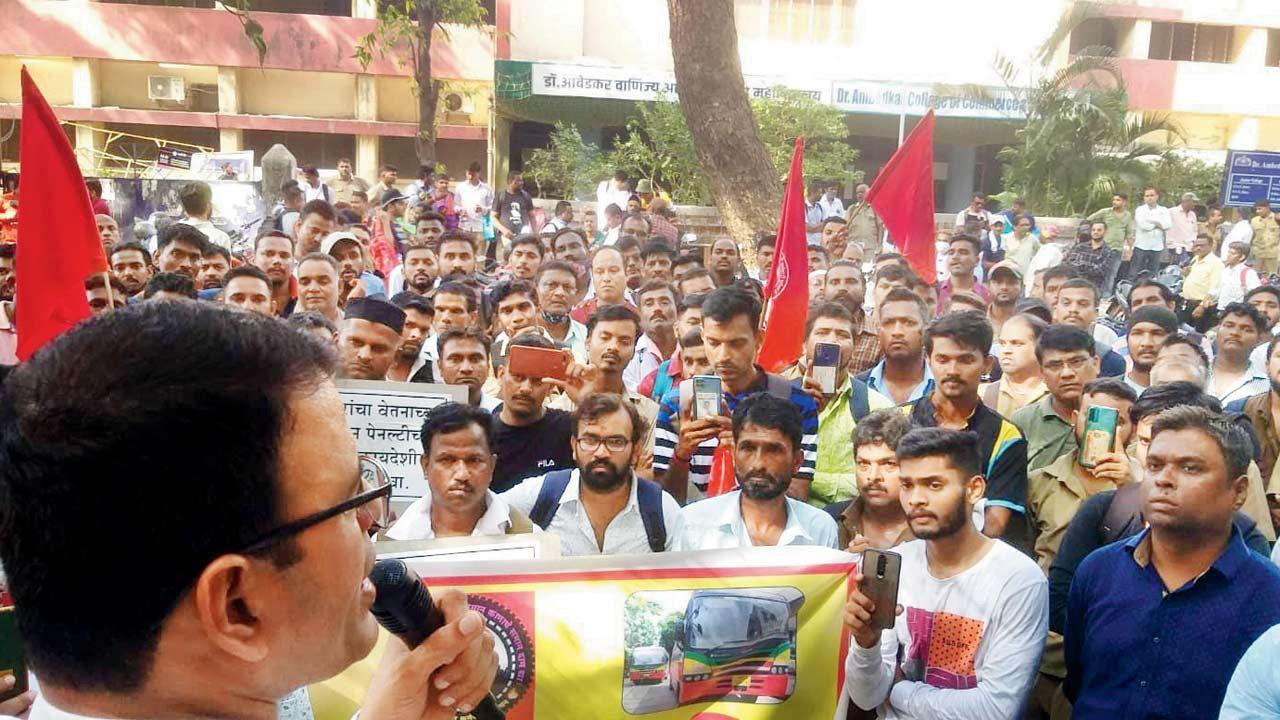 Scores of contract workers of the BEST undertaking on Friday protested at Wadala bus depot demanding permanent employment. The contract employees had earlier demonstrated over non-payment of salaries following which BEST trade unions took up their cause last week and sought their regularisation.
We demand regular wages and that the step-motherly treatment towards us by officers stop. We are also penalised and fined which affect our records. We have been staging protests and stopped bus operations for a few hours. However, we are thankful to BEST trade unions for taking up our cause," a contract bus driver said.
BEST contract workers and trade unions protest at Wadala bus depot Friday
Another worker said, "We have been operating buses as sincerely and regularly as BEST buses. We follow all the guidelines. There are stray cases of misconduct, but one cannot punish all contract employees for that. Hence we needed the support of a recognised trade union."
Currently, three companies—Hansa City Bus Service Private Limited, SMT ATPL Associates (Daga Group) and MP Group—run operations of wet-leased buses in Mumbai on behalf of the BEST Undertaking. BEST bus operations had remained affected for two consecutive days last month as drivers of wet-leased contract buses refused to work, protesting non-payment of salaries for a period of three months.
"We staged a protest outside Wadala bus depot," Shashank Sharad Rao, convener, BEST Workers Joint Action Committee said. The committee has earlier charted a seven-point agenda for the contract bus drivers and workers. He added, "They should be given timely wages and the BEST undertaking should stop penalising workers for the smallest of errors."