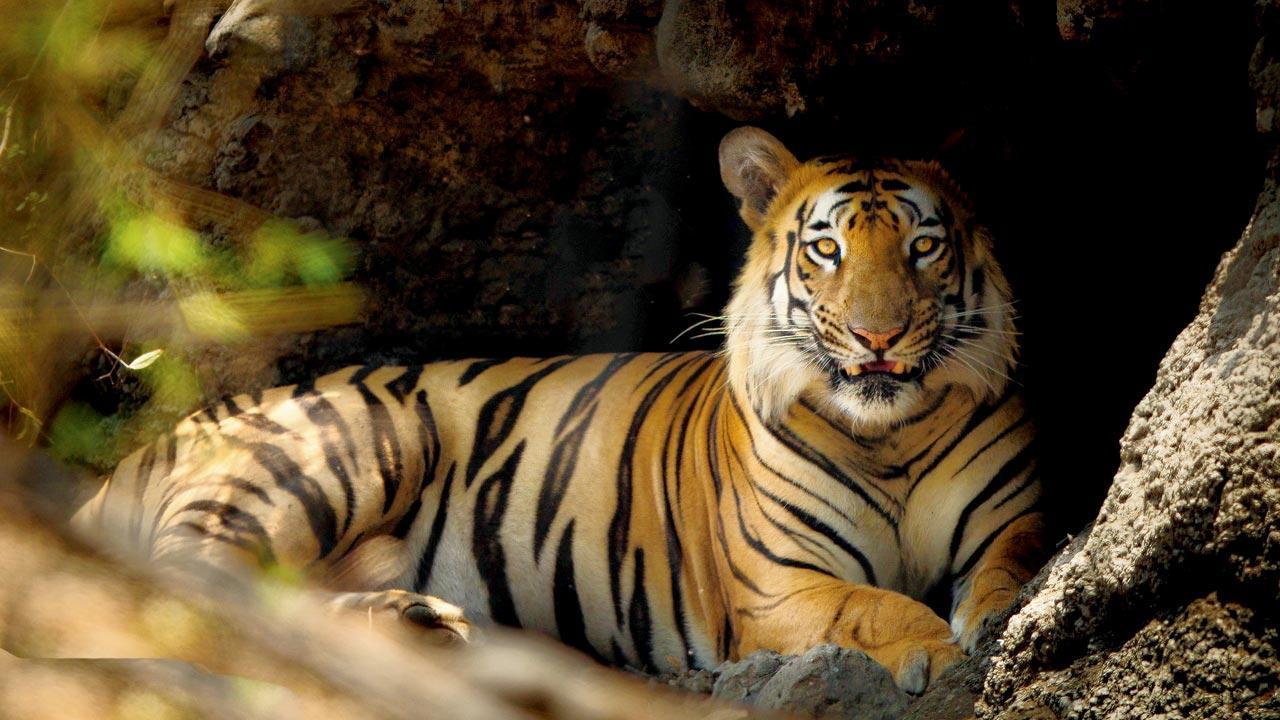 The presence of a good wild prey base and wildlife corridor seem to be attracting tigers to the Painganga Wildlife Sanctuary (PWS). PNGT1, a male tiger named Johnny by tourists, and PNGT2, a female tigress, both from Tipeshwar Wildlife Sanctuary in Yavatmal near Nagpur walked to PWS and have made this sanctuary their home. A Nagpur-based conservation photographer was lucky to spot Johnny at Painganga a few days back.
PNGT1 came to PWS in May 2020 while PNGT2 arrived in March 2021, both of them came from Tipeshwar which is 80 kms away. The aerial distance between the two sanctuaries is 45 sq km. Their journey once again highlights the importance of wildlife corridors. Experts think that Johnny can further move to adjoining Kawal Tiger Reserve in Telangana.
Sarosh Lodhi, co-founder of CLaW and a conservation photographer, said, "A few years ago I saw Johnny in Tipeshwar Wildlife Sanctuary when he was a cub. He's all grown and drop dead handsome now. He has a new home—Painganga Wildlife Sanctuary, which falls under direct management of Melghat Tiger Reserve. He is the son of Star Male sired with Peelkhan female, and has all the traits of his father—the macho mane, confident gait, domineering presence."
"The sighting of Johnny at PWS signifies the importance of wildlife corridors for safe migration of animals. It also translates to having a better gene pool with the presence of local tigers. Painganga has a good presence of dholes, sloth bears and leopards along with a sizeable presence of herbivores too. The tigers can further move to adjoining Kawal Tiger Reserve in Telangana," Lodhi added.
From 2016, Lodhi has successfully promoted, individually and through CLaW, various parks such as Tipeshwar, Panna, Satpuda, Dudhwa, etc to help them come up on the wildlife destination map as a desirable place to visit.
Chief Conservator of Forest and Field Director of Melghat Tiger Reserve, Jayoti Banerjee said, "PWS is flourishing with wildlife, beautiful forests and landscapes. The sanctuary is a part of Pandharkawda wildlife division of Melghat Tiger Reserve.The other part is Tipeshwar Wildlife Sanctuary which is joined across the landscape by the corridor connecting Vidarbha with Telangana. The sanctuary has the presence of tigers—one male tiger and one female tiger from Tipeshwar."
Wildlife lover Tauseef Khan, who has been working for wildlife conservation in PWS, told mid-day that due to the efforts by the forest department and like-minded people, PWS has a huge potential to attract tourists for spotting tigers. The sanctuary, spread over 325 sq kms, will start tiger safaris for tourists from May 6.
May
Month in 2020 when the male tiger came to PWS