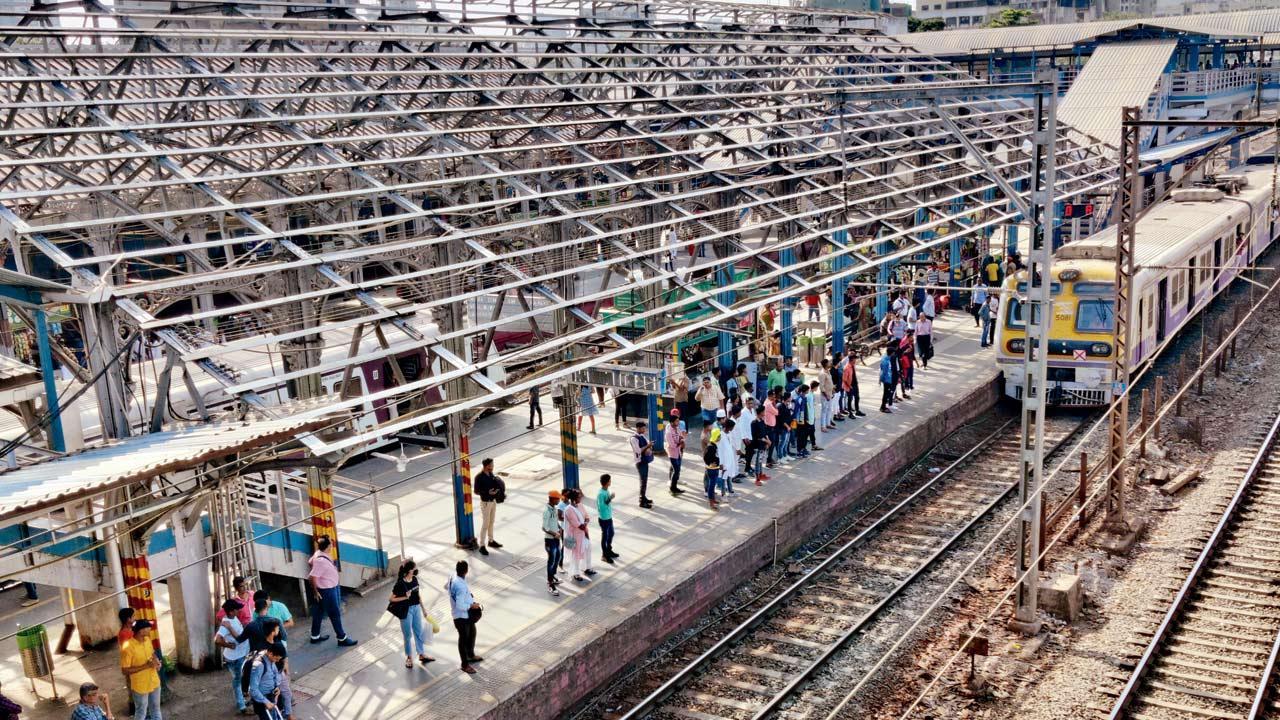 Commuters waiting for trains at Bandra station have to brave the blazing sun as the Western Railway has removed the central roof of the platforms as part of a heritage restoration project. Officials said the roof will be placed back at the earliest.
"The main central roof of the station has been taken off and the sun is directly on the head of passengers and all of this is troublesome, especially in the afternoon. The railways should fix it at the earliest," said Somanji Velhal, a commuter at Bandra station.
Another commuter Ratnaben Makhija said that the roof could have been removed in parts and put back instead of taking it off all in one go. "Should we walk with an umbrella at the station to avoid the harsh sun?" she asked, adding that the roof work should have been undertaken before the harsh summer set in.
The roofless central main structure at Bandra station on Tuesday. Pics/Nimesh Dave
Railway officials said that it was just a matter of a few days. "The work is a part of the heritage restoration process and needs to be completed before the monsoon sets in. We have already started the process of placing back the elements of the roof and it would not remain that way for long," Western Railway Chief Public Relations Officer Sumit Thakur said.
Made in England
The roof of Bandra station was made in England and delivered in 1888. The roof of the railway station, which is 164 feet and six inches long with a clear span of 62 feet and 11 inches, was transported to India with all cast iron ornamental brackets, wrought iron ornamental finials, gutters, downpipes, and every small thing with additional 50 per cent of rivets and 10 per cent of bolts.
Do we use umbrellas?
Ratnaben Makhija, commuter
'Should we walk with an umbrella at the station to avoid the harsh sun? The roof work should have been taken before the harsh summer set in'
Sumit Thakur, WR's CPRO
'We have already started the process of placing back the elements of the roof and it would not remain that way for long'
164
Approx. length of the roof in ft