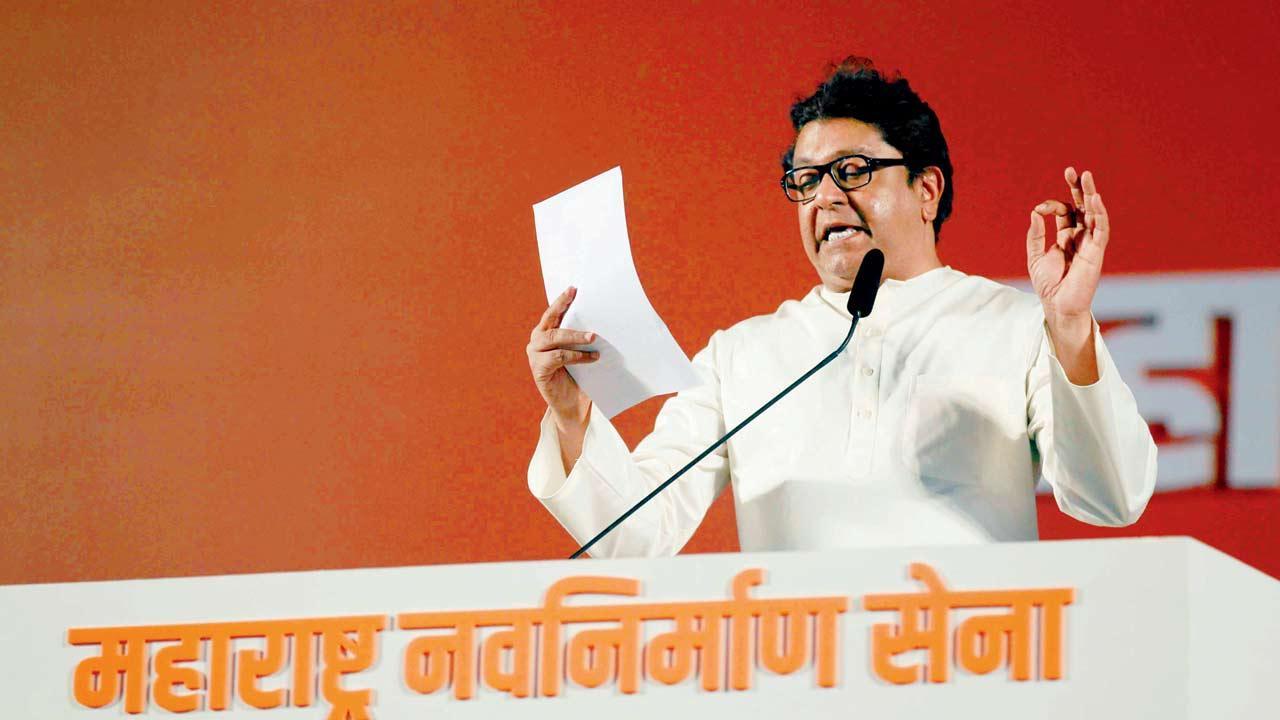 The Aurangabad police on Tuesday booked Raj Thackeray for promoting enmity between communities through his May 1 speech. Hours later, the MNS president came out with an appeal to Hindus across the country to play Hanuman Chalisa on loudspeakers where the Muslims give azan on loudspeakers, on Wednesday. His party called the police action vendetta by the MVA government. I request all Hindu brothers to play Hanuman Chalisa where azan is given on loudspeakers. Make them understand what trouble the loudspeakers cause," he said in an appeal in Hindi.
He tweeted the appeal late Tuesday evening. "The question is of illegal loudspeakers. Most mosques are illegal. How can government allow this? And if it allows it, why can't Hindu temples get the same permission? In reality this isn't a religious issue but a social one. People of all religions get affected by the sound pollution caused by loudspeakers. All governments in the country should understand this. Which religion tells us to block the roads for prayer?" he said, urging Muslims against giving his agitation a religious colour. "If it is made a religious issue, then we will also respond it in a religious way," he wrote.
Action plan
Thackeray gave his followers an agenda, the first being playing Hanuman Chalisa on loudspeakers. He wants local organisations and alert citizens to conduct a signature campaign to be submitted to the police with a demand to act against illegal loudspeakers. Then he wants the people to dial daily the police helpline number 100 to report loudspeakers atop mosques. He welcomed those who have pulled down loudspeakers from mosques and asked people to not disturb these mosques.
Raj Thackeray at his Shivaji Park home on Tuesday. Pic/ANI
In the first information report, Thackeray has been named accused number one, with the local chief of the youth wing of MNS. The offence is non-bailable and the accused can get relief only from the court. Sources said the leaders will be probed, sent notice to explain and summoned to the police station. He will be arrested if he doesn't turn up, said sources.
In a series of public rallies in Mumbai and Thane, Thackeray has threatened to disrupt the Muslims' daily prayer by airing the Hanuman Chalisa if loudspeakers from mosques were not removed by Ramazan Eid, Tuesday. He reiterated the threat in Aurangabad at a rally which was allowed to be held on 16 conditions, some of which were allegedly violated by the organisers.
Sena's Sanjay Raut said the state government did not work on the basis of ultimatum. He said the MNS has been given a contract by one political party to disturb peace in Maharashtra because they don't have enough strength. He said people from outside were expected to be brought to disturb peace on Wednesday. "Such cases are normal. There are even some against us for writing in Saamna," he said.
Police in action mode
In anticipation of Thackeray's threat, the state police have served 'preventive' notices to MNS and Hindu organisations' workers. Many senior MNS leaders received the notice on Tuesday. On Tuesday, Chief Minister Uddhav Thackeray and home minister Dilip Walse Patil met to discuss the law and order situation in the state. State DGP Rajnish Seth addressed a media conference. He appealed to the people to follow the law and cautioned the troublemakers against misadventure. He said the police leaves were cancelled and the regular staff, reserved force and home guards were deployed for maintaining peace.