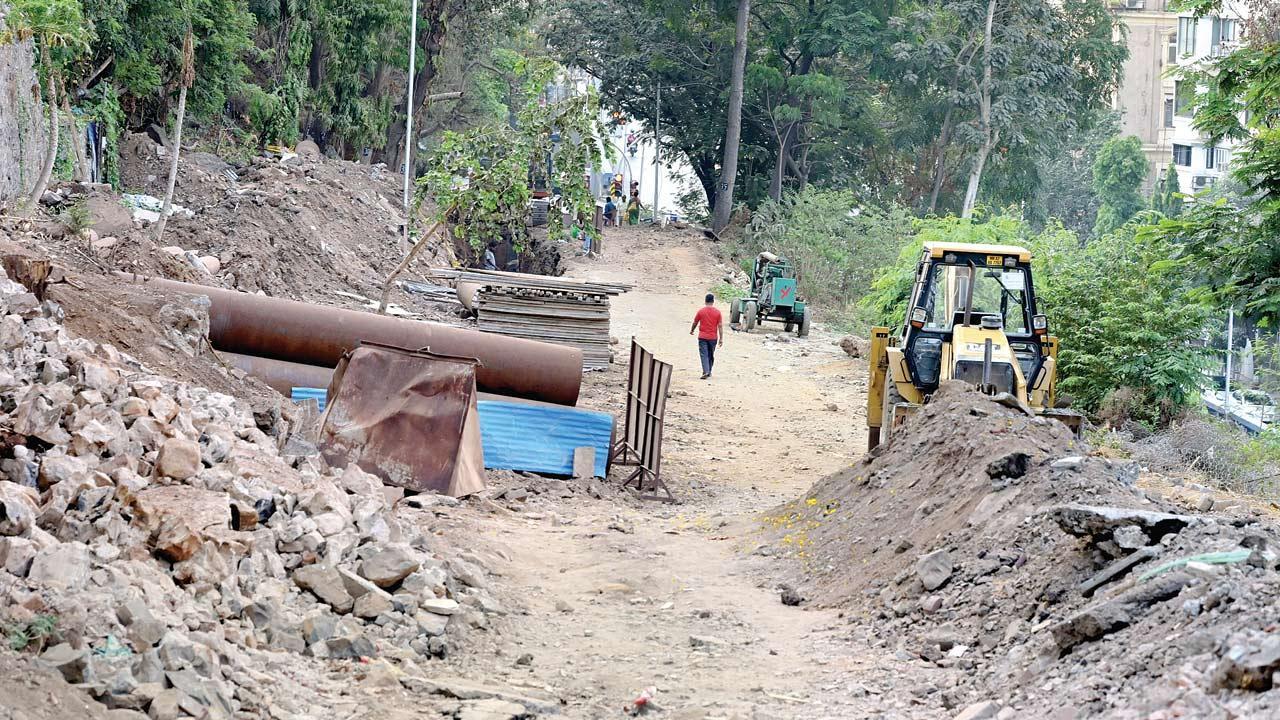 The BG Kher Road in Malabar Hill, which was damaged and shut for traffic following a landslide in the monsoon of 2020, will remain under repair for yet another season. Currently the work of laying water pipelines is on and it is unlikely to be complete before the rains, which means the work to construct the road can start only after monsoon.
The retaining wall adjacent to BG Kher Road collapsed in a landslide in the night of August 5, 2020 after incessant rains. The road developed huge cracks and has been closed since then. Three water pipelines which supplied water to Malabar Hill were also ruptured in the incident. The Brihanmumbai Municipal Corporation had laid one temporary pipeline to restore the supply of water to the area, which is still in use. The road, formerly known as Ridge Road, is an important one as it links Malabar Hill and Walkeshwar to the rest of Mumbai.
The landslide had prompted the BMC to form a technical advisory committee to study the condition of soil and road before reconstruction of the patch. The technical advisory committee, which included professors from IIT, recommended the GeoTechnical investigation. After the preliminary study and then the final report, the committee suggested waiting for one monsoon before starting the repair work. The work on the adjacent N S Patkar Road, however, was completed in June 2021. "It was important to observe what happens on the hill slope during monsoon. Only after observing the effects of heavy rains did the work of laying pipelines started," said a senior BMC official.
Officials from the roads department said water pipelines are being laid underneath and rebuilding of the road will begin once this job is over. "We were informed that the work for laying pipelines will take another three to four months and be completed around August. But the road construction cannot start during the rainy season, so we will wait till October," said Ulhas Mahale, deputy municipal commissioner of infrastructure.
5 Aug
Day in 2020 when the landslide took place