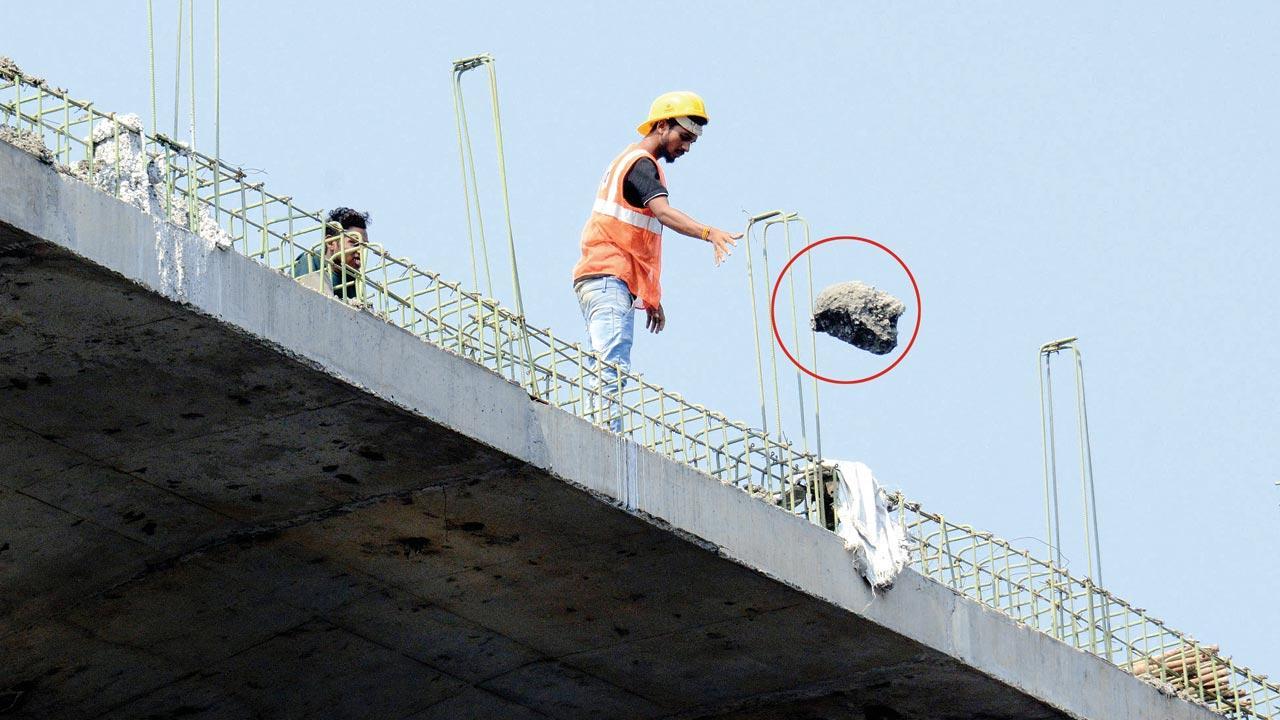 The six-lane Motagaon-Mankoli bridge over the Ulhas river, which is currently being constructed by the MMRDA, is adding to the pollution in the river which is already facing several threats. The contractor was caught dumping construction material and debris from the worksite into the river by a mid-day photographer. A mid-day photographer caught the contractor dumping construction material and debris from the work site into the river.
The photographer has taken pictures and a video where some workers can be seen standing on the concrete girder of the bridge and throwing concrete chunks into the river.
Work on the bridge is set to be complete this year
Environmentalist Stalin D from NGO Vanashakti said, "This is an absolutely illegal, brazen violation of the pollution laws. Since the Ulhas river case is being heard and restoration of the river is being monitored by the Supreme Court, we will definitely bring this to the notice of the Apex court and hold the Mumbai Metropolitan Region Development Authority (MMRDA) accountable. Abuse of rivers has to stop. Government bodies have time and again shown insensitivity towards protection of rivers. The environment department and state pollution control board have to act swiftly to punish the violators."
A senior MMRDA official said, "We are very sensitive to such incidents, if any. I have asked the officials concerned to immediately look into it."
A worker throws debris into the river
According to the Central Pollution Control Board, Ulhas river, which supplies drinking water to a number of people living in Ulhasnagar, Kalyan, Dombivli and also parts of Navi Mumbai, is among 53 of the most polluted rivers in Maharashtra and one of 351 most polluted rivers in the country. The river has been facing several problems related to pollution, including illegal discharge of wastewater and untreated sewage.
In 2019 following a nod from the Union environment ministry, the state forest department handed over 1.44 acre of mangrove land to MMRDA to build the six-lane bridge. The 980-metre bridge, with an estimated cost of Rs 223 crore, will act as an important link as it will reduce the travel time between Thane and Navi Mumbai by one hour. The work on the bridge is on at a fast pace and is expected to be complete this year.
Rs 223CR
Estimated cost of the project