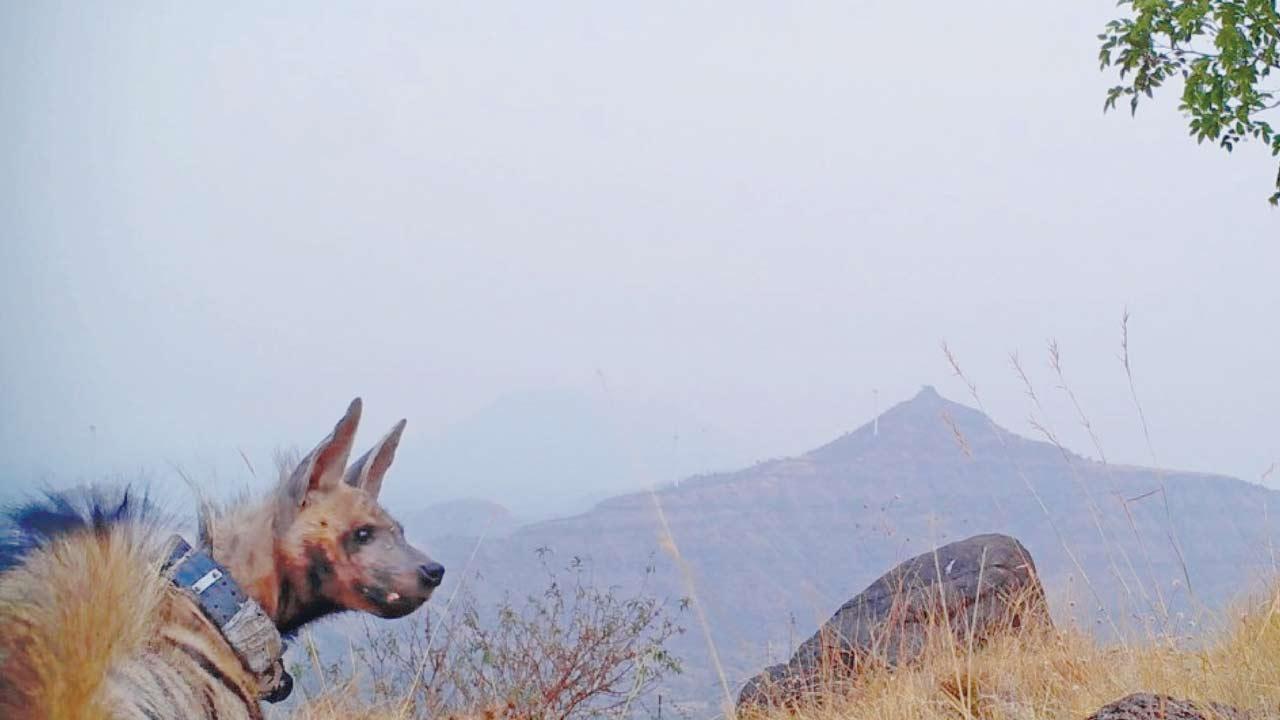 In a first-ever attempt, an Indian striped hyena, raised in captivity, has been rehabilitated and reintroduced into the wild by NGO RESQ Charitable Trust, Pune and Satara Forest Department. Contrary to popular belief that captive animals cannot be set free in the wild, the hyena has spent a successful 14 days after her release as on Wednesday, which also is World Hyena Day. In addition, the animal has been collared which will shed some light on the life of hyenas.
Rescued as cub
The hyena cub was rescued over a year ago by the NGO Eco Echo Foundation, Nashik. After their attempts to reunite her with her mother failed, she was moved to RESQ Wildlife TTC in Pune by the Nashik Forest Department for rehabilitation. Harshad Nagare, one of her primary handlers, said, "We knew our goal from day one, we had to keep her wild for her to have any chance of future survival in a natural habitat."
The female cub was rescued a year ago in Nashik. Pics/RESQ CT
Katie Moore, deputy vice-president of NGO International Fund for Animal Welfare, said, "For the longest time, the idea of returning animals, such as large mammals, to the wild was just off the table. But now we're seeing people in the field questioning the long-held belief. In a lot of cases, it is still impossible, especially if the animals have been traumatised when young or raised in poor captive conditions. One also needs to be very careful about introducing diseases to a wild population."
Rehabilitation process
With the aim to keep her fit to be released, an exhaustive list of rehabilitation milestones was formulated, which she had to complete over the next year. She moved through enclosures of different sizes with varied enrichment which encouraged igniting her wild instincts of den-making, digging, marking her territory, and hiding food. In addition, the handlers also ensured that she was not desensitised to human contact as her distrust towards humans is imperative for her survival in the wild.
Satara Deputy Conservator of Forests Madhav Mohite said, "We have a lot of areas in our division where wildlife thrives without being in conflict with humans. The RESQ team was willing to GPS collar it for monitoring purposes and our local forest department team was also enthusiastic."
Back into the wild
Tuhin Satarkar, field director, RESQ CT, said, "After she stepped out into the wild, we closely monitored her. For the first day, she remained in a 600-metre range, but began exploring from the next day. Our teams stayed there for 10 days post-release, tracking her movements. Today marks a successful 14 days of her survival in the wild. While reviewing camera trap footage, what we saw is a confident female walking by."
"This has never been done before, and while we are at a nascent stage of rethinking old ideas about reintroduction, there is yet much to learn," said Neha Panchamia, founder, RESQ Charitable Trust, adding, "She [the hyena] could become the torchbearer for the future of hundreds of relatively non-conflict wild orphans."