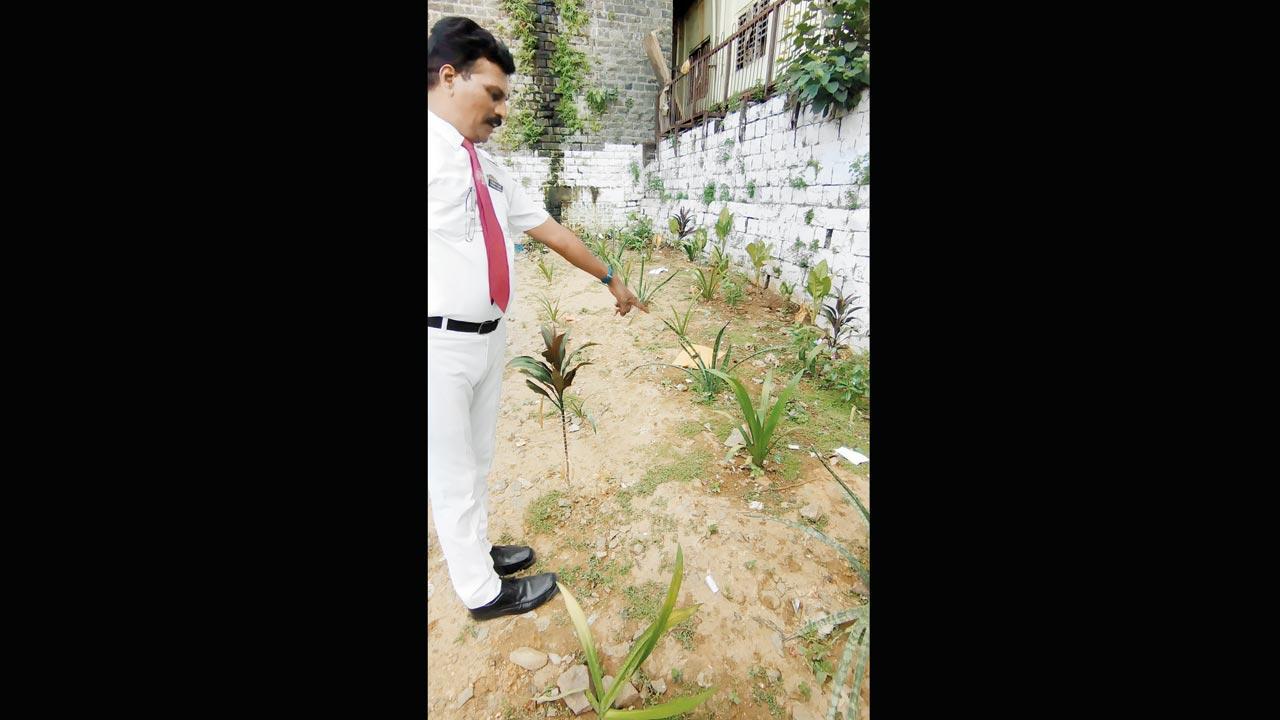 What used to be a garbage-dump in the corner of Sandhurst Road station is now a beautiful green strip with tomatoes, lady fingers and flower plants. The station staff along with volunteers and local civic staffers used the soil and debris from the monsoon micro-tunnelling work to build a sustainable garden next to the railway tracks.
Micro-tunnelling is a technology widely adopted and recently tried, tested and executed here for building an underground waterway with over 1,000-mm diameter RCC pipes, without disturbing rail movement. The rich soil removed from this massive work proved to be very helpful to flourish the garden.
Flower pots made with discarded helmets
"All of this has been done with zero funds, by just involving local volunteers, civic staff and railway workers. We cleared and developed the strip of land near the down slow local line and cultivated numerous plants with this soil. Last week, we had tomatoes and this week we got more flowers," said Vinayak Shewale, station master. He added that they are also planning to build a small compost pit between two lines.
Shewale said that the station premises had been plagued with the problem of garbage dumping near the tracks, mostly by residents of the nearby buildings, so the station officials took up the issue with the local corporator and civic authorities. He added that the dumping menace has stopped after the residents were counselled, paving the way for the garden.
Station staffers have also created a compost pit between railway lines
At various corners of the station, discarded items like old pipes, broken helmets, ceiling light panels and dustbin covers have been converted into flower pots and Warli art was painted on them.
Sandhurst Road station, which is over a century old, is a junction station of the main and harbour line and retains much of the original architecture.
It is India`s first elevated station. While the elevated station is used by the harbour line, the ground station is used by the main line trains.
Central Railway Chief Public Relations Officer Shivaji Sutar said that Sandhurst Road station has set an example and added that CR has always tried to follow the model of green railway.