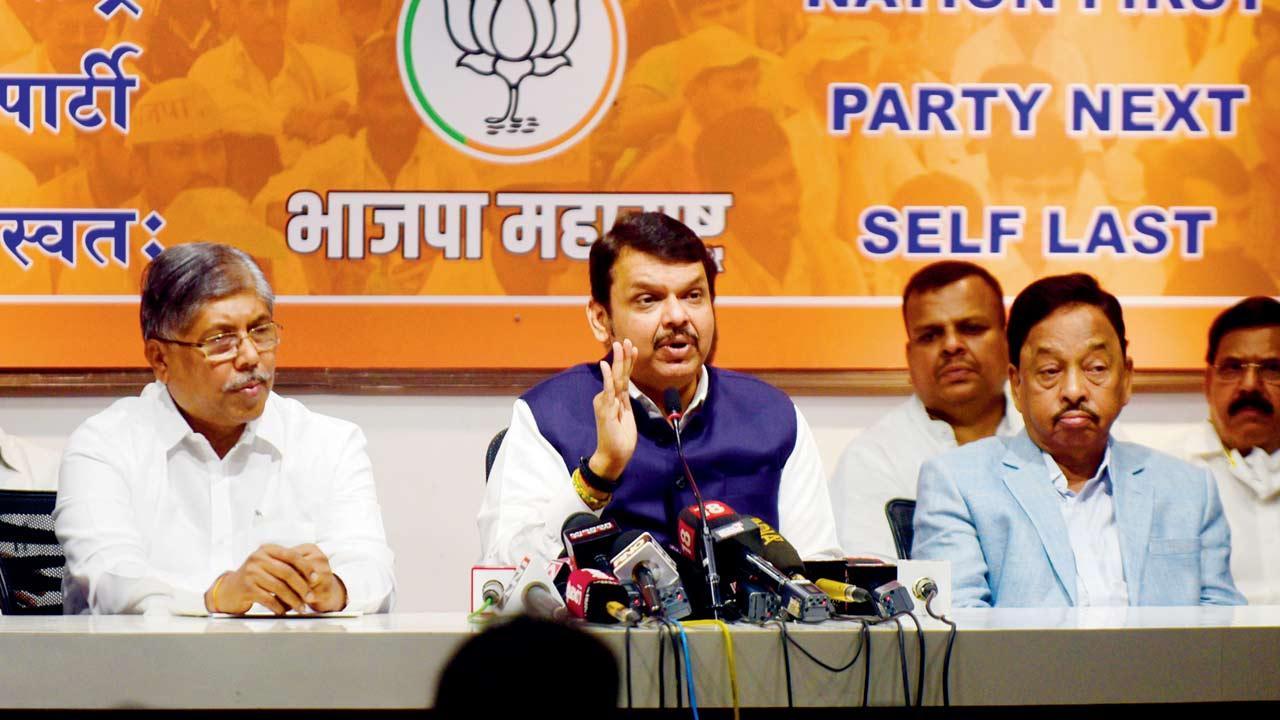 Accusing Chief Minister Uddhav Thackeray of orchestrating the repression of the principal opposition in the state, former CM Devendra Fadnavis said the BJP would fight if someone has been behaving like Hitler. He was referring to the incidents involving his party colleagues.
"Whatever is happening in Mumbai is being done at the behest of the CM. The Shiv Sena handles Mumbai while the NCP is responsible for the rest of Maharashtra," he alleged at a press conference on Monday. He added that he has written to the Union home secretary about the violence against BJP leaders in Maharashtra.
'Leaders attacked'
Fadnavis accused the Maha Vikas Aghadi of attacking BJP leaders and office-bearers in the presence of police force. "We have to struggle to file an FIR. We have not seen such a situation in Maharashtra before this. They attacked us as we have exposed their corruption through the Pol Khol campaign. It is wrong for them to assume that such attacks will deter us from speaking against the government."
Sanjay Raut, Shiv Sena MP
He added that former MP Kirit Somaiya, who is a Z-plus protectee, was attacked in full view of the state police while another party leader Mohit Kamboj was attacked by a mob of Sena workers. Claiming that false cases have been filed against BJP leaders across the state, he said, "The situation here is like that of Kerala and West Bengal where many BJP workers have been killed. But we will not stop. This is Maharashtra, where we have strength. It is for the government to decide whether it wants a fitting reply from us."
Burning issues
The former CM said that the BJP boycotted a meeting called by the home minister over the loudspeaker issue as the party felt there was no scope of communication with the government in view of what has happened in the state in the past four-five days. He said that if Hindus have accepted the Supreme Court's directives, other religions should also respect the same, adding that the party would plan its strategy considering the implementation of the SC directives.
The Leader of the Opposition in the Assembly also warned that if independent MP Navneet Rana and her MLA husband Ravi Rana were booked for sedition for proposing to recite Hanuman Chalisa, then the opposition will also recite the verse daily. "Book us for sedition. If not here in Maharashtra, should Hanuman Chalisa be chanted in Pakistan?" he asked.
Sena hits back
Responding to Fadnavis, Sena MP Sanjay Raut said reciting Hanuman Chalisa was not against law in Maharashtra, but using it for politics and inciting violence in Hanuman's name was. "Chalisa is read in temples or in front of (Hanuman) idols. Reading it on roads is against religion. Not sedition, it's blasphemy by the BJP," he said in a social media post.