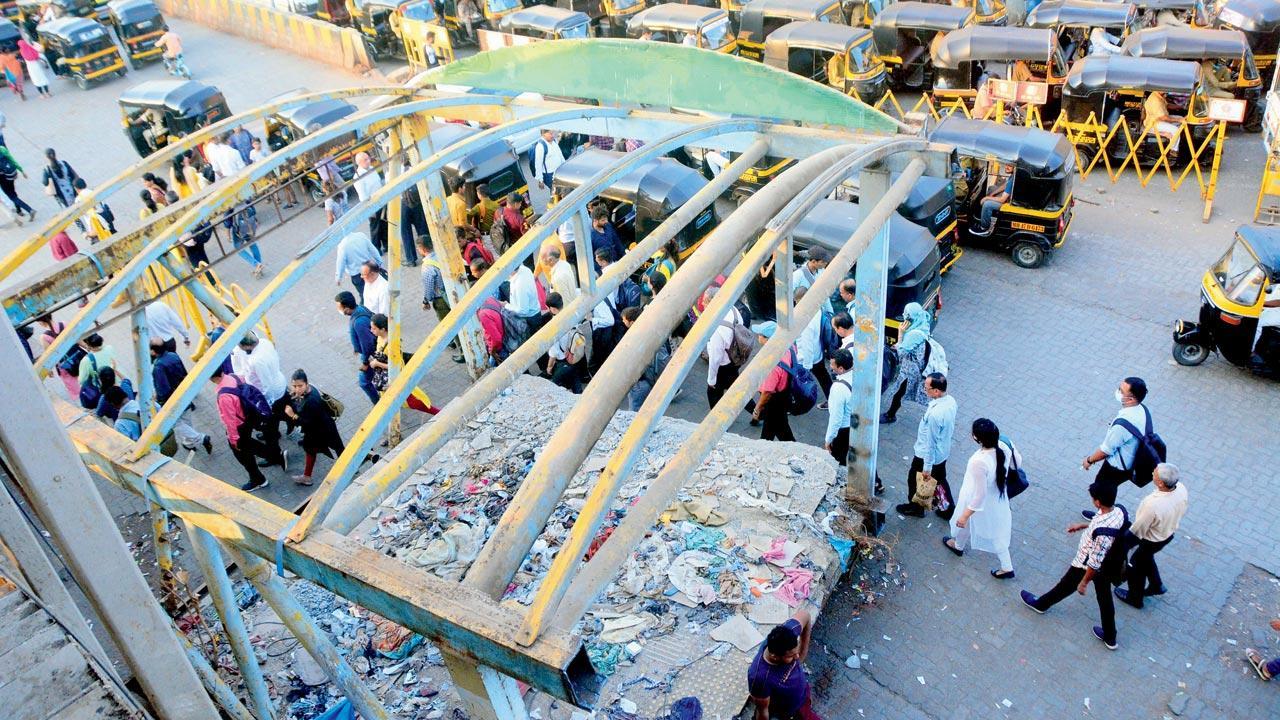 Work on the Bandra Skywalk is finally picking up with the BMC starting the demolition and construction of the station to Bandra court arm while it has been finally made clear that the MMRDA will be responsible for fixing the other arm from the station to Kalanagar junction.
Mumbai Suburban Guardian Minister Aaditya Thackeray on Tuesday tweeted, "I have spoken to MMRDA MC Srinivas and have requested him to expedite the skywalk restoration work from Kalanagar junction to Bandra station. The MMRDA will initiate the process soon."
Metropolitan Commissioner S V R Srinivas told mid-day, "Internal work will start on this and we will discuss with BMC too." BMC officials said there isn't any communication as of now, and added that they would coordinate with MMRDA.
The skywalk on the east side of Bandra station is the first skywalk in the city, built in 2008 by the Mumbai Metropolitan Region Development Authority (MMRDA). However, it was shut in 2019 following a structural audit report conducted after the Himalaya foot overbridge in CSMT collapsed.
It took three years to finally start reconstructing the bridge with the Brihanmumbai Municipal Corporation starting the work on one arm of the skywalk two weeks ago. This arm over Anant Kanekar Marg helps pedestrians avoid the chaos on the east side of the busy station.
"The cost of building the entire skywalk was estimated above Rs 15 crore. So, we decided to go with the construction of one arm which is used by most pedestrians. The life of the new structure will be at least 40 years," said a BMC official. He added that a portion of the other arm was on the highway and that the MMRDA dismantled it to build a flyover, making its reconstruction a little difficult. The dilapidated structure of the second arm still stands on the ground.